cb3 tertiary banner
FinServe Summit Heralds Increased Amplification of The College's Mission
A recap of the first-ever convening of The College's FinServe Network, committed practitioners advancing our mission.
cb15 resource post
Related Posts
Sandy Herzlich Tapped to Lead Retirement Strategy at The American College of Financial Services
View Details
Carol Prushan Appointed Senior Vice President, Advancement and Alumni Relations at The American College of Financial Services
View Details
April 19, 2023
On April 17 and 18, The American College of Financial Services hosted a landmark event: the first gathering of the inaugural class of the FinServe Network.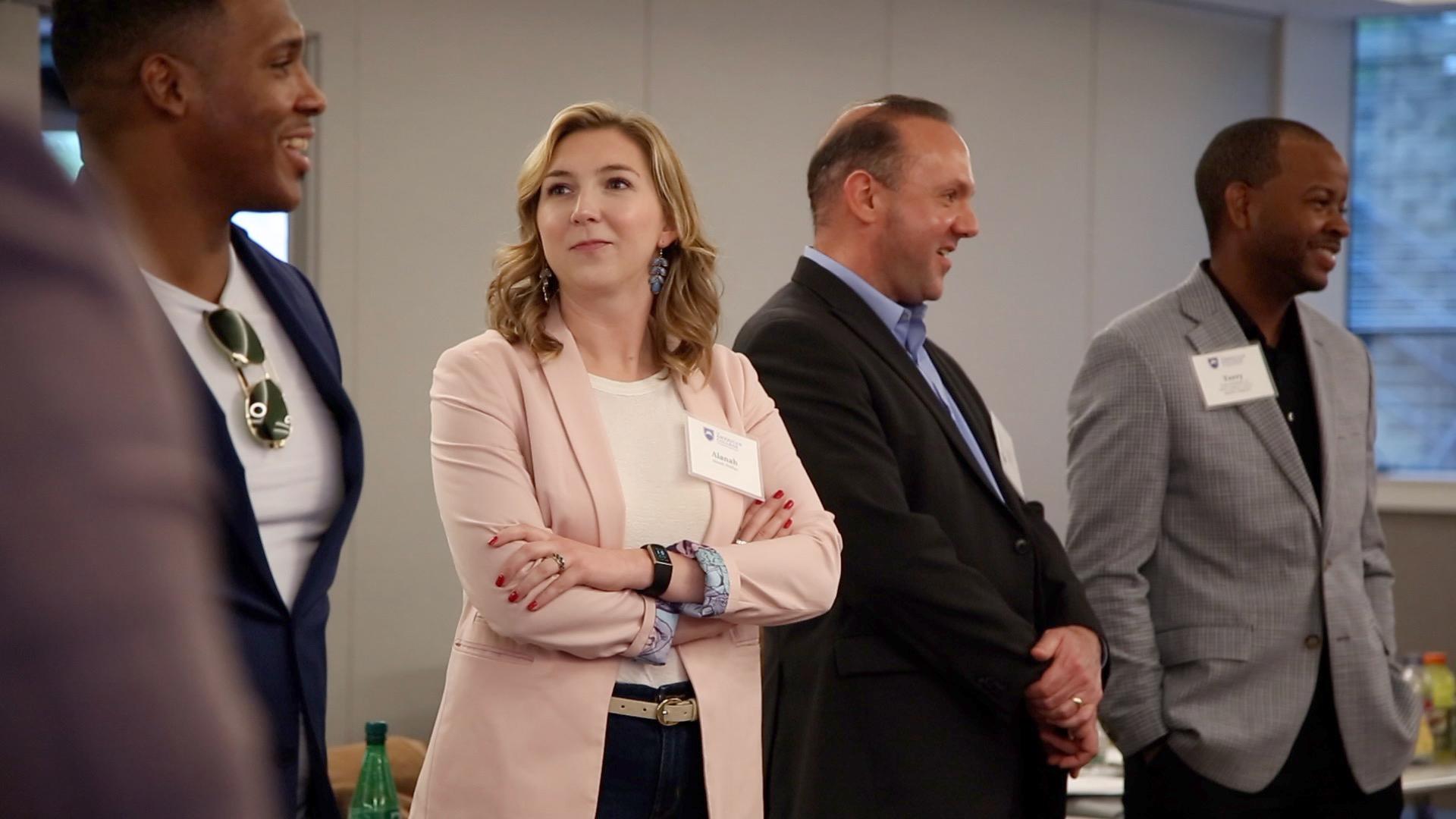 A group of 16 financial professionals with diverse backgrounds, fields of expertise, and positions in the industry, the FinServe Network is a new initiative by The College to utilize those in its network to amplify The College's mission within their spheres of influence. Membership in the FinServe Network is an exclusive invitation extended to practitioners who embody lifelong learning and are passionate about advancing the profession to be more diverse and inclusive. 
With 14 of the 16 members of the FinServe Network's inaugural class represented at the Summit, held in-person at The College's offices, faculty, staff, and influencers engaged in two days of team-building, panel discussions, coffee talks, and more designed to bring them together, inspire them, and equip them with the tools they need to spread the word about The College to their communities.
A Powerful Introduction
The FinServe Network ambassadors arrived at The College on Monday from hometowns all across the country–some even from as far away as Alaska and California. They joined in the excitement felt by The College's professional staff as Chief Marketing Officer Jared Trexler led the unveiling of The College's reimagined brand, a sneak peek at its new website, and an overview of the "Your Life's Work" campaign meant to introduce diverse communities to the multitude of opportunities available to them at The College. 
Trexler and other members of The College's Marketing and Communications team emphasized how this trifecta of changes would enhance the ability of those present to share The College's story with others and communicate the value of its programs, not just as a leader in financial services education, but as a difference-maker that seeks to better the profession and society through financial knowledge.
To that end, faculty members Timi Joy Jorgensen, PhD, and Valencia Gabbay presented the latest iteration of Know Yourself, Grow Your Wealth: The College's consumer financial education program designed to help those in underserved communities to grow in personal finance knowledge. Jorgensen and Gabbay highlighted the program's benefits to advisors, encouraging them to share the news of its availability to their networks. 
Breaking the Ice and Building Community
Following the informational sessions, Senior Director of Marketing and Media Relations Lindsey Allumbaugh sought to grow the group's team spirit by having the FinServe ambassadors engage in a few fun activities. In the first game, ambassadors were given a choice between two opposing sides–coffee or tea, vacations at the beach or in the mountains, etc.–to lighten the mood of the gathering and allow them to get to know a bit more about each other. In the second, the ambassadors were encouraged to speak about their "superpower": not a power they would like to have, but one they already possessed. 
Many ambassadors spoke about their power to connect disparate ideas and different people to foster growth through community and connections, especially ones that might not be expected or commonplace. A few testified to their powerful personalities, from sunny optimism to grounded realism, as what helps them to sway clients and convince them to consider alternatives to their preconceived notions about financial planning. Still others referred to their backgrounds from diverse communities as a force that drives them to serve others or a passion for giving back. 
These talents were the focus of the day's last activity, an inspirational conversation with Deirdre Van Nest of Crazy Good Talks®. In her session, Van Nest testified to the power of personal stories and emotional connection as the key to effective speaking. Rather than simply trying to convince or sell their clients on ideas by presenting facts, Van Nest shared her own highly affecting story of losing her mother in a car accident to prove the point that emotional appeals are at the core of creating relationships based on trust–an especially important skill for FinServe ambassadors to have. 
A Meeting of the Minds
The FinServe ambassadors reconvened Tuesday morning for coffee and a discussion session with College President and CEO George Nichols III, CAP®. President Nichols painted a picture of how far The College has come in its nearly 100-year history and how far he envisions it going as it works to fulfill current strategic initiatives designed to set a new standard in the industry. While candid, President Nichols was full of enthusiasm and hope for the future–and his sentiments were shared by the ambassadors, who excitedly peppered him with questions about what they could do to help The College move forward in its mission. 
Afterward, the ambassadors heard from The College's leading faculty in a panel discussion distilling recent research initiatives and their results. Faculty members represented included: Michael Finke, PhD, CFP®, Wealth Management Certified Professional® (WMCP®) Program Director; Eric Ludwig, CFP®, Retirement Income Certified Professional® (RICP®) Program Director; Chet Bennetts, CFP®, ChFC®, CLU®, RICP®, CLF®, director of the CFP® Certification Education Program and Chartered Financial Consultant® (ChFC®) Program; Keith Gatto, PhD, Assistant Professor; Sophia Duffy, JD, CPA, Associate Professor of Business Planning; and David Pierce, MSFS, MSM, MA, AEP®, CLF®, ChFC®, CLU®, Certified Financial Fiduciary®, Chartered Life Underwriter® (CLU®) Program Director. 
Ambassadors once again freely engaged throughout the presentation session and asked many impactful questions about the implications of the findings and how they saw The College's programming evolving in the years to come. 
Conversations and Connections
The late morning and the early afternoon saw ambassadors being split into smaller groups for the final activities of their visit: panel discussions. 
Ambassadors were grouped by specialty and area of focus for several discussions capturing insights into retirement planning today, DEI in practice, and opportunities and challenges in philanthropic advising. A member of The College's faculty or leadership team led and moderated each discussion. 
In the first panel on retirement planning, Ludwig led a discussion with ambassadors Jason Austell, CFP®, MSFS, ChFC®, CLU®, CASL®, RICP®, AEP®, CAP®, Nancy Du, RICP®, CFP®, Padric Scott, AEP®, CFP®, ChFC®, CLU®, WMCP®, CCFC, and Terry Parham, Jr., CFP®, ChFC®, CLU®, RICP®, WMCP®. Ludwig pointed out the two biggest disruptors in current retirement planning–inflation and market volatility–and asked the ambassadors about their strategies for handling them.
For the second panel, Finke headed a conversation focused on challenges facing independent advisors from RIA firms featuring ambassadors Andrew Tudor, CFP®, CAP®, Angie Ribuffo, CFP®, RICP®, ChFC®, CDFA®, CLTC®, WMCP®, Heather Welsh, CFP®, AEP®, MSFS, and Scott Winslow, MSFS, ChFC®, CLU®, RICP®, AEP®, CCFC. Finke pointed out that 2022 was an interesting year for advisors, especially those going independent, due to fluctuations in investment products and a rising number of clients needing retirement planning services.
The third panel, including and moderated by President Nichols, looked at diversity, equity, and inclusion in the financial services industry. Ambassadors Fatima Williams, FSCP®, Alanah Phillips, Centario Grier, and Marco Williams talked about their experiences as women and people of color getting started in the industry and advancing in the profession. They emphasized leaning into what makes you unique despite a culture that often browbeats people into fitting a mold.
Finally, the last panel on philanthropic advising included recent Chartered Advisor in Philanthropy® graduate President Nichols and two ambassadors specializing in giving back: Rick Peck, CAP®, and Mary Fischer-Nassib, CAP®. Peck, a gift planner with a charitable foundation, and Fischer-Nassib, founder of her own organization focusing on making an impact through athletic programs, talked about current challenges, trends, and opportunities in philanthropic advising.
A Celebratory Conclusion
A final address from Trexler and Nichols and a champagne toast tied a bow on the inaugural FinServe Summit and sent the ambassadors on their way with inspirational words and the promise of an impactful collaboration to come–as well as new bonds of friendship and fellowship formed. 
We thank all the members of our first FinServe Network class for their service to The College and dedication to advancing our mission to benefit society! Check out the recap reel below to view the Summit's video highlights.