cb3 tertiary banner
VetCTAP Aims to Increase Veteran Employment Rate
News and Resources
cb15 resource post
Related Posts
Military Spouse Grateful for Center Scholarship
View Details
VetCTAP Aims to Increase Veteran Employment Rate
View Details
Career Pathways in Financial Services: An Introduction for Black Americans
View Details
Diversity, Equity & Inclusion Insights
Helping Veterans Find Employment
November 11, 2023
The Veteran Career Transition Assistance Program's (VetCTAP) mission is to increase the veteran employment rate by helping transitioning veterans, and spouses build personal confidence and enhance their individual economic stability through job search skills training, practical tools, and one-on-one coaching.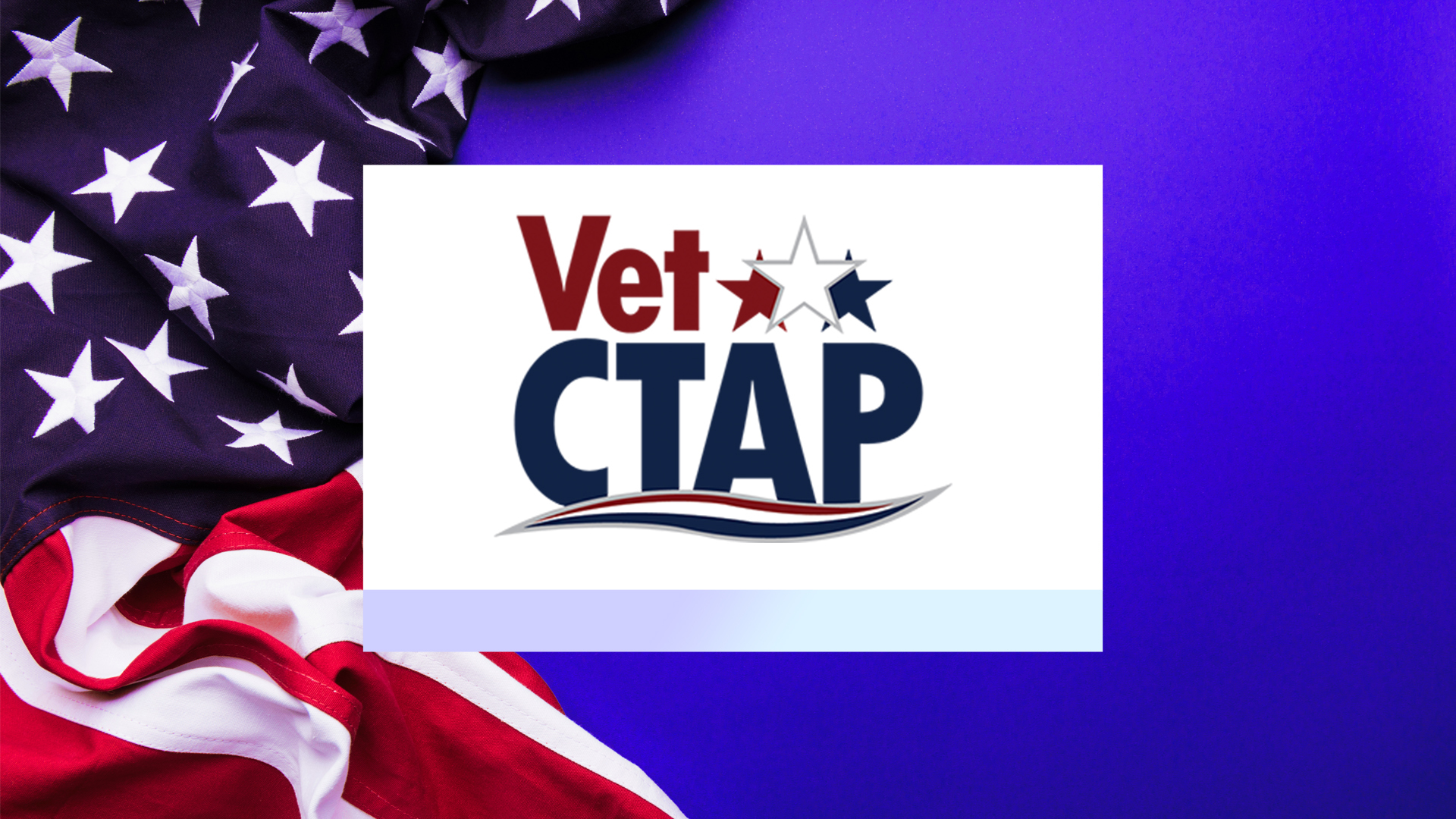 The VetCTAP program concept grew out of the personal experience of Sandra Fichter (former US Army Officer), who is a Human Resources (HR) professional. In her HR role, Sandra reviewed resumes from transitioning veterans that did not accurately reflect all of their skills. Sandra could predict that they would not be selected for jobs they qualified for because they did not effectively communicate their strengths and skills. This realization led to the birth of the VetCTAP workshop series.
Sandra recruited senior learning and development expert, Janis Whitaker and other HR professionals to create a job search workshop series. The program was built around three key elements:  one-on-one coaching, utilizing HR professionals as facilitators and coaches, and reaching military members before they leave the service, allowing for a smooth and successful career change.
The VetCTAP workshop series (formerly CTAP) began in 2012 successfully assisting military, veterans, and spouses through their career transition. The program has sustained a 90% success rate of graduates obtaining the career of their choice. VetCTAP's success is not possible without HR and business professionals who volunteer to teach and coach, and donors who share in the passion of supporting veterans and spouses in transition, and helping those veterans find employment in the career of their choice, where they can comfortably provide for themselves and their families. 

Disclaimer: The information provided in this article is intended for general informational purposes only. It should not be considered as financial, legal, investment or other professional advice. Readers should consult with the relevant professionals for specific advice related to their situation.
We are not affiliated, associated, authorized, endorsed by, compensated or in any way officially connected with any other company, agency, or government agency in this article. All product, service and company names are trademarks™ or registered® trademarks of their respective holders. Use of them does not imply any affiliation with or endorsement by them.
Before making any decisions based on the information contained in this article, you are strongly advised to refer to alternative, independent sources of information to substantiate the basis for your decision. It is your sole responsibility to satisfy yourself prior to using the information in any way and to seek appropriate advice before taking or refraining from taking any action in reliance on any information contained in this article.