cb3 tertiary banner
2023 Women Working in Wealth SummitSM
A recap of the annual summit committed to advocate and advance women in financial services.
cb15 resource post
Related Posts
7 Tips to Help Black Clients Find Multigenerational Success
View Details
CAAFP 2023 Highlights the Power of Financial Advice in Black Communities
View Details
Conference Focuses on "Reclaiming Black Wealth"
View Details
Diversity, Equity & Inclusion Insights
March 10, 2023
The second annual Women Working in Wealth<sup>SM</sup> Summit celebrated extraordinary women and featured a dual-track program for professional development designed to advance gender parity in financial services.
Over 180 women and their allies from across financial services attended the event in New York City on International Women's Day. Presentations and discussions covered a variety of topics, ranging from education, changing perspectives, and self-care to rising interest rates and economics.
"You don't necessarily have to be the subject matter expert. You need to have great leadership skills that are transferable." 

— Kristin Lemkau, CEO of J.P. Morgan Wealth Management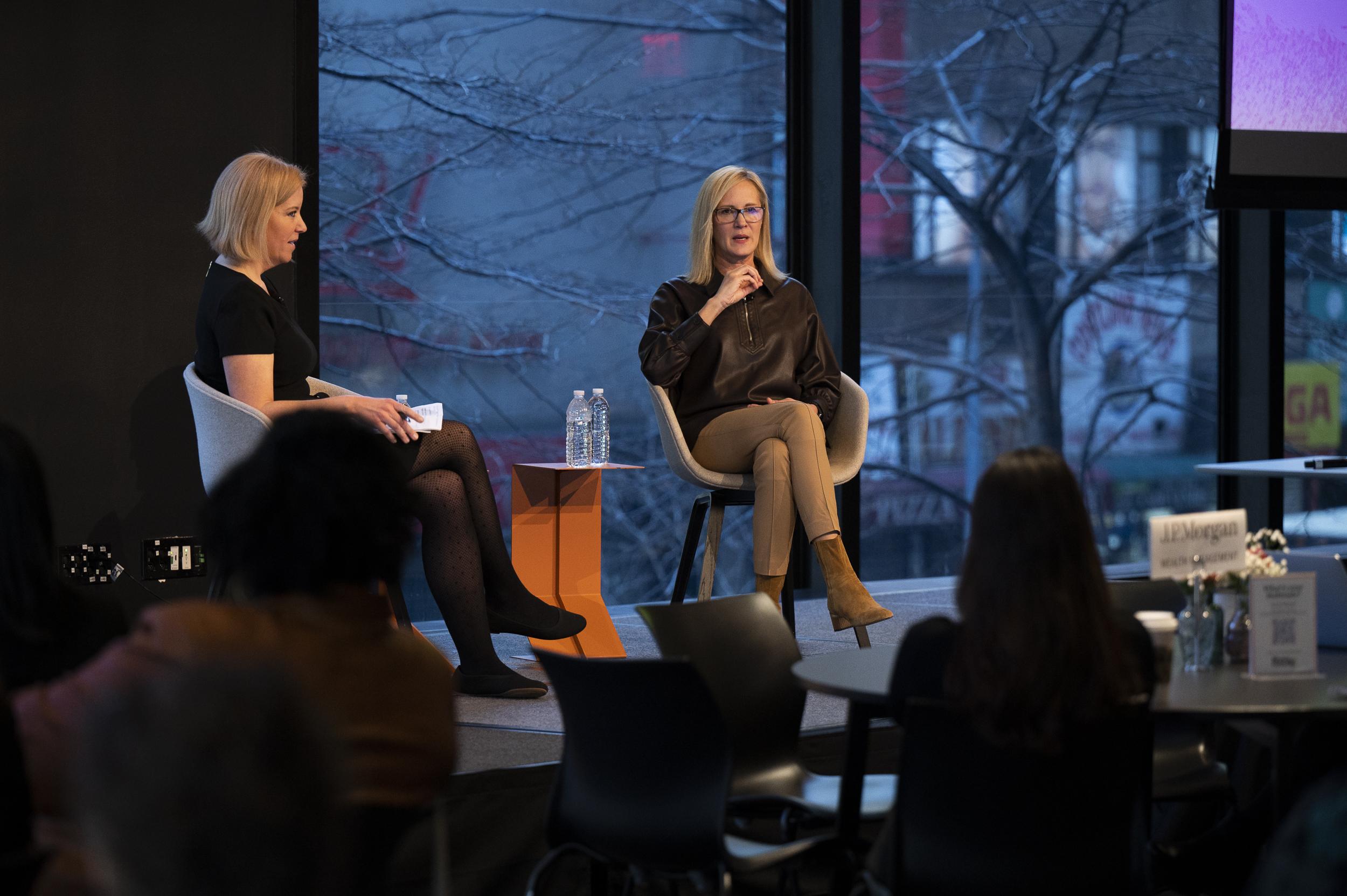 Speaking to a packed room of leaders and practitioners, CEO of J.P. Morgan Wealth Management Kristin Lemkau emphasized that employees and clients are critical to an organization's success. "I think a person is a sum of their parts," she said, and "you have to care about the whole person." She also spoke about team building and stressed the importance of starting with the right people. Lemkau advised aspiring female leaders in the audience that acquiring leadership skills and focusing on organizational growth is critical to career advancement.
Our CEO, @KLemkau closed out the 2nd Annual Women Working in Wealth Summit to discuss her career and driving growth at J.P. Morgan Wealth Management. @TheAmerCol pic.twitter.com/Ms0Ehrz9h5

— J.P. Morgan Wealth Management (@JPMWealth) March 16, 2023
Informed industry experts discussed the future of financial services
Presentations covered a range of topics, with insights including:
As part of the practitioner breakout: "Catching the Philanthropy Wave with your Clients Estate Planning Essentials," Dien Yuen, JD/LLM, CAP®, AEP®,  executive director, Center for Philanthropy & Social Impact at The American College of Financial Services, reminded the audience to ask the question about philanthropy to everyone, and often, and ask business owners what's going to happen to their business when they aren't here. Figure out what the client is trying to do, and then figure out the tools in order to do it. These important questions all need to be addressed. She stated you can gain access via greater education and applied knowledge, and then become a "lifelong learner."       
 

In the practitioner breakout: "Alternative Investments Post-FTX," panelists stated that the average individual has no access to an immediate money transfer while explaining that it's expensive to be poor. There are still secrets around money and investments, along with deep historical roots, and panelists believe access is what drives people to gravitate toward crypto markets.       
 

Tyrone Ross, Jr., CEO/co-founder of Turnqey Labs, urged advisors to "meet clients where they are" to guide their journey forward. He mentioned that portfolios were first derived in the 1940s and they weren't informed by research, which can further fracture a client's knowledge base and experience with investing. This requires making financial services accessible to more people in order to change the lens and perspective of wealth management.

Kelly Ann Winget, founder, Alternative Wealth Partners, believes it only takes one person to make a difference, and eventually mindsets shift while you uplift and mentor the next cohort of women on your heels. She challenged those in the audience to be someone to stand up in the room for what they believe. "You are here saying you want to support women, but are you a "way" maker? You have to be willing to change the narrative. When you have the power to anoint a woman to put her in power, you have to do it." Her message was to "be the little flame within the organization" and make a way while serving as a beacon for others.

In her leadership breakout: "How to Get Ahead of Burnout, Read the Signs, and Assess the Risk," author and burnout expert Cait Donovan conveyed that companies are now changing their corporate culture in as few as 3 years, immersing employees in cycles of constant change. She highlighted workplace risk factors for burnout as: workload, lack of community, lack of control/autonomy, lack of fairness, lack of recognition, and values mismatches.

Donovan emphasized that the best companies out there are practicing psychological safety, are aware of burnout risk factors, and support team members in need while she acknowledged the importance of advocating for and advancing women in the industry.  
Wonderful start to the day hearing from @TheAmerColPrez and Kristi Rodriguez at the @TheAmerCol Women Working in Wealth Summit. pic.twitter.com/YUvbI34e5n

— Mary Kate Gulick (@MaryKateGulick) March 8, 2023
Staying in the struggle and the state of progress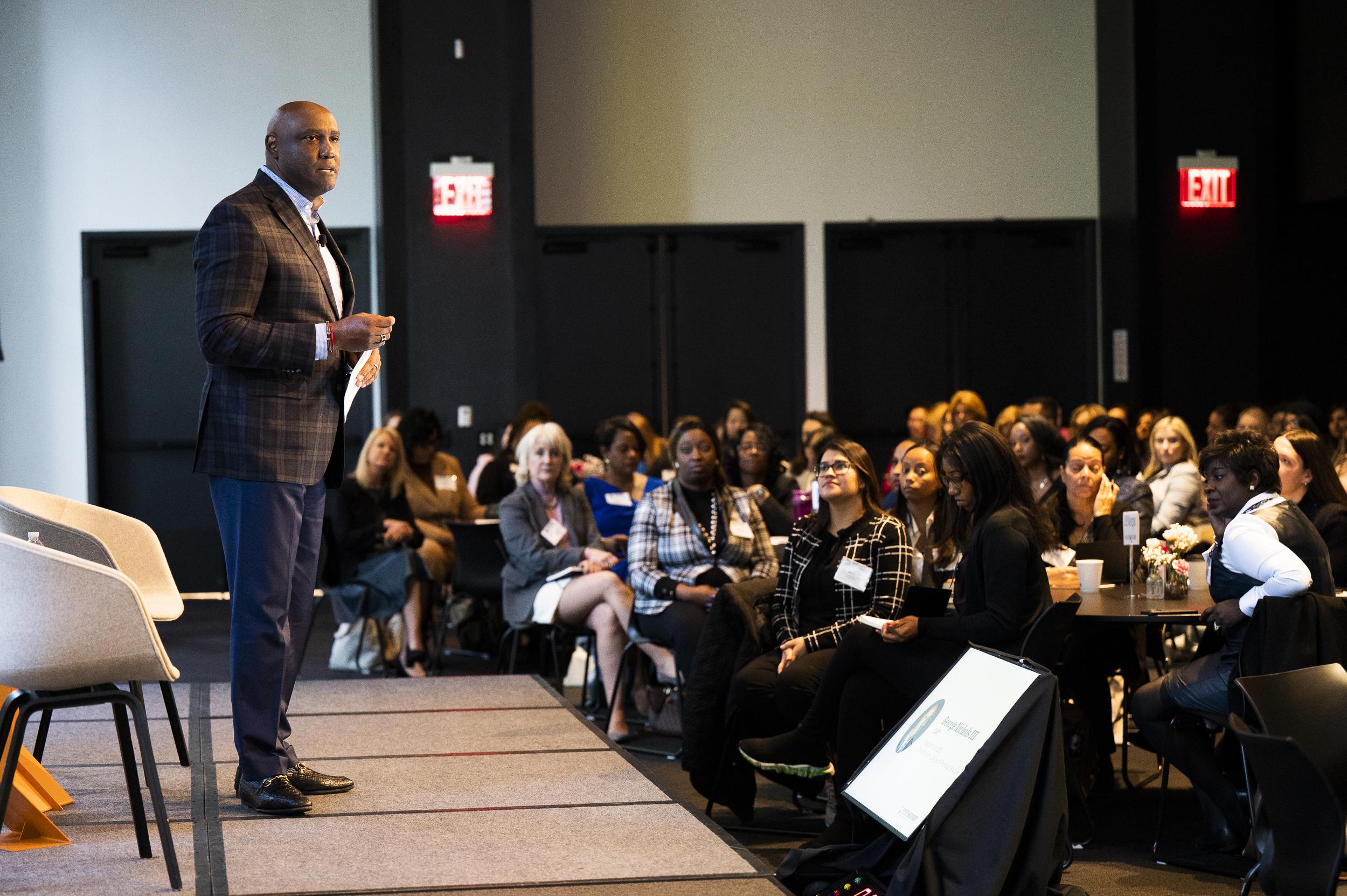 The American College of Financial Services President and CEO George Nichols III, CAP®, addressed the audience by invoking Frederick Douglass's quote, "If there is no struggle, there is no progress." He acknowledged the progress already achieved and left the audience with compelling questions: "How do we stay in the struggle and advance the progress? And how do we determine the voids we're trying to fill?"
Nichols invited everyone to engage with the Center for Women in Financial Services to define the voids and meet those needs. By doing so, advisors can better focus on their clients. He believes "it cannot be about 'what you sell,' but rather, it has to be about 'what they need.'"
 
Women Working in WealthSM Walk advocates for pay equity
Director and Chair Lindsey Lewis, MBA, ChFC®, CFP®, of the American College Center for Women in Financial Services kicked off the annual event by leading a brisk morning walk to the "Fearless Girl" statue on Wall Street. The walkers struck their best power poses with "Fearless Girl" while a placard reminded everyone why the meeting was so important, reading: We won't overcome pay inequality for 300 years unless we do something now.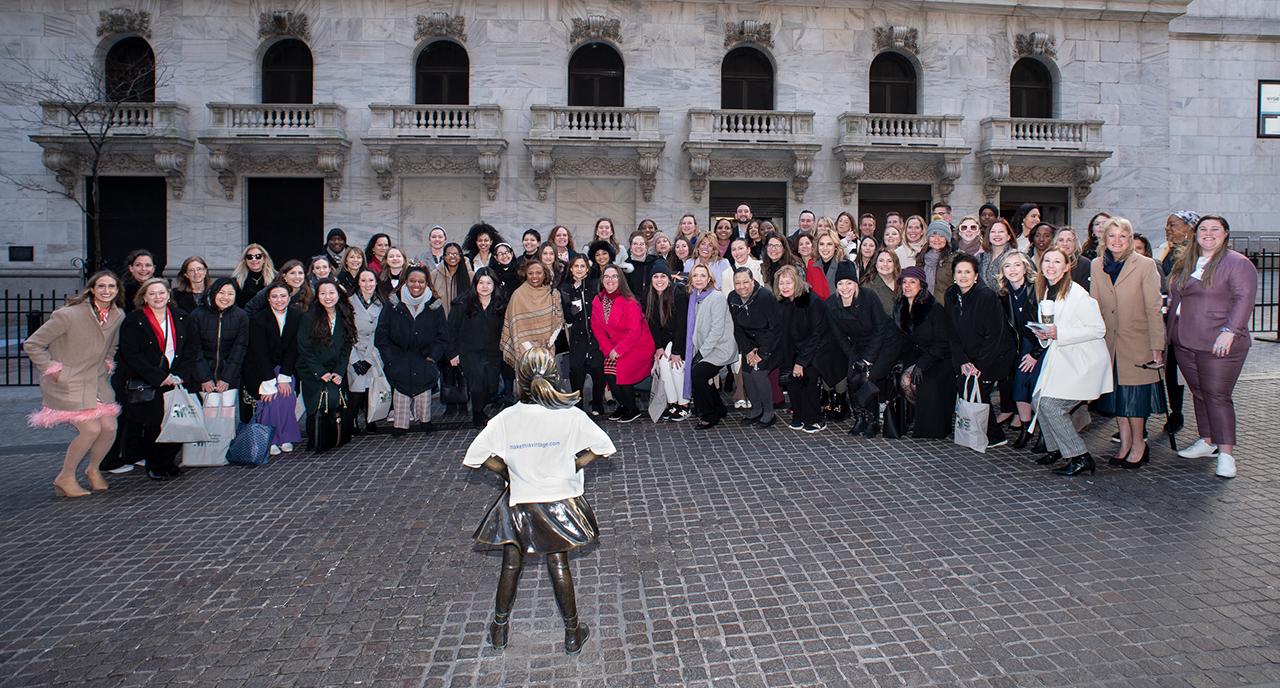 Five Women Working in WealthSM honored for uplifting women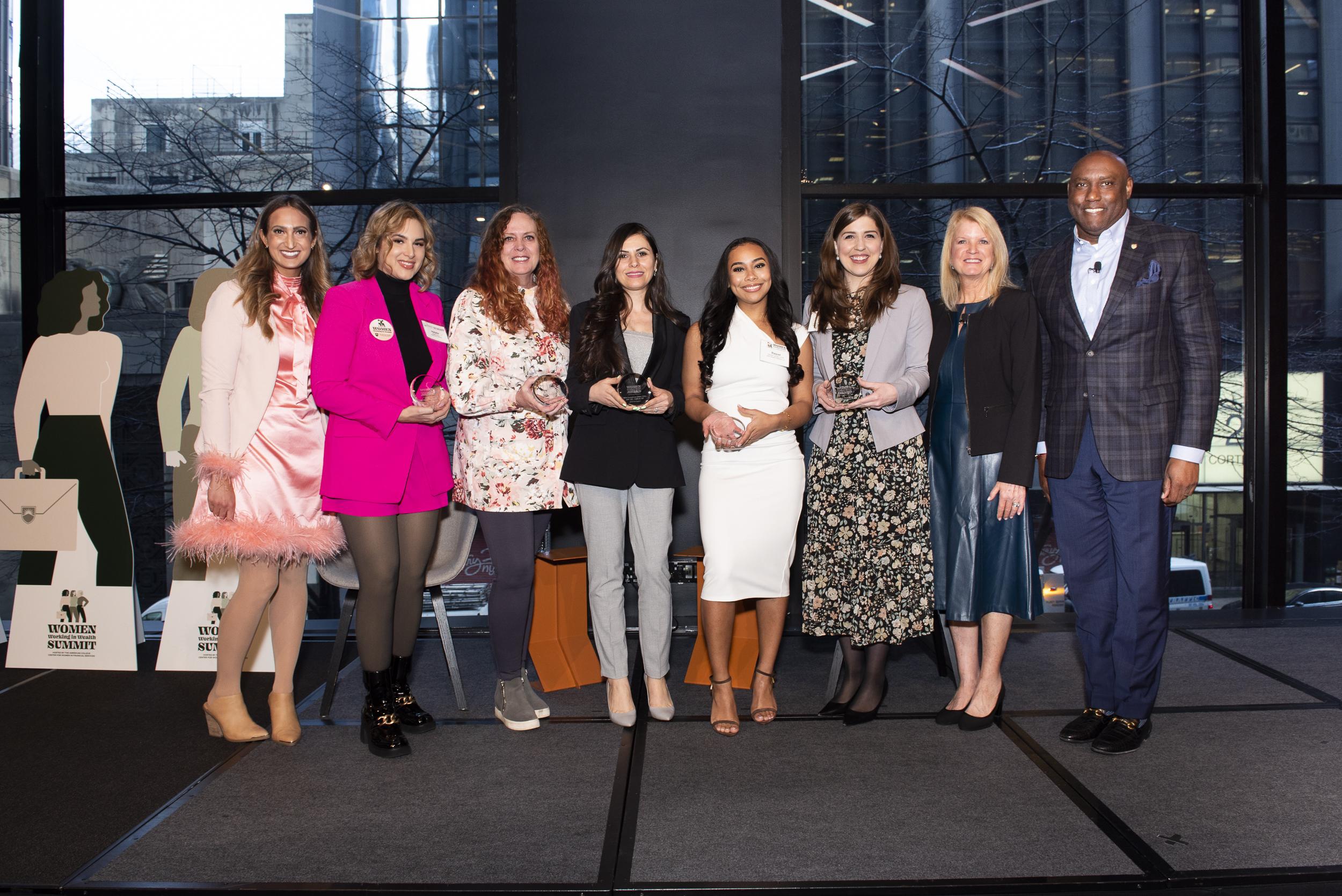 The Center for Women in Financial Services announced a list of accomplished and dedicated women in the profession honored as this year's Women Working in WealthSM Award recipients. Created to showcase and celebrate women who have rolled up their sleeves to advance women in financial services through mentorship, sponsorship, and advocacy, each award winner documented concrete examples of how they removed obstacles, aligned with allies, and executed novel solutions to improve gender parity. The 2023 group of award recipients includes:
Natalie Baires, WMCP®, JPMorgan Chase
Lauren Oschman, CFP®, CDFA®, Vestia Personal Wealth Advisors
Sahar Pouyanrad, EMBA, CTFA, AEP®, CEP®, ChSNC®, PFP®, JPMorgan Chase Bank
Raquel Tennant, CFP®, 2050 Wealth Partners 
Andi Madden Wrenn, AFC®, Zeiders
Speaking at the inaugural @TheAmerCol's Women Working in Wealth Summit and Awards Ceremony last year was a POWERFUL experience. This year, I hope you'll join me, my @2050WPs & colleagues from across the country to celebrate #FinServ women! #WWW2023https://t.co/f4Rc7IcGng pic.twitter.com/ZCMG2oVA5K

— Lazetta Rainey Braxton, MBA, CFP® (she/her/hers) (@lazettabraxton) February 20, 2023
Great to be taking a deep dive into economic challenges during the closing panel at the American College's WOMEN WORKING IN WEALTH SUMMIT, 4/7-8, NYC with Sitara Sundar and Carly Doshi, managing director, Wealth Planning @jpmorgan. @FAmagazine https://t.co/SDv3hjSB4U

— Tracey Longo (@TraceyFAMag) March 6, 2023
"Today is such a good day to change the world."
— Hillary Fiorella, Executive Director, Center for Women in Financial Services
As a proud leader, Hillary Fiorella, executive director for the American College Center for Women in Financial Services, exuded excitement for all the women in the room working in financial services, along with their allies who play an essential role in advocating for and advancing women.
She also reminded everyone that the work is still unfinished because it "takes 30% longer for women to get promoted to the C-suite." She pointed everyone to the Center's research to help determine if it is more effective to stay in the same firm or to move around to different firms to receive promotions. 
 
CFP Board Director of Diversity & Inclusion Dawn Harris connected w/ CFP Board volunteers at the #WomenWorkinginWealth Summit! From left to right, Diversity Advisory Group Member Rianka Dorsainvil, CFP® (@Rianka_D), Dawn, & Women's Initiative Council Member Angela Ribuffo, CFP®. pic.twitter.com/YkEFuux9Qo

— CFP Board (@CFPBoard) March 8, 2023
During the Women Working in Wealth Summit held by @TheAmerCol, recruiting experts discussed how as women prefer remote work, firms need to learn how to adapt to create a more inclusive and diverse workplace. #diversity #women @ericacarnevalli https://t.co/uhjllqRsGm

— Financial Planning (@finplan) March 10, 2023
See the recap video from our event: