cb3 tertiary banner
CAAFP 2023 Focuses on Reclaiming Black Wealth
The College's annual conference for Black financial professionals convenes to address representation.
cb15 resource post
Related Posts
Military Spouse Grateful for Center Scholarship
View Details
VetCTAP Aims to Increase Veteran Employment Rate
View Details
Career Pathways in Financial Services: An Introduction for Black Americans
View Details
Diversity, Equity & Inclusion Insights
October 16, 2023
The American College of Financial Services' 2023 Conference of African American Financial Professionals (CAAFP) convened August 7-9 in Chicago, Illinois, gathering nearly 1,000 Black members of the financial services industry for professional development opportunities, continuing education, and candid conversations on its theme of "Reclaiming Black Wealth."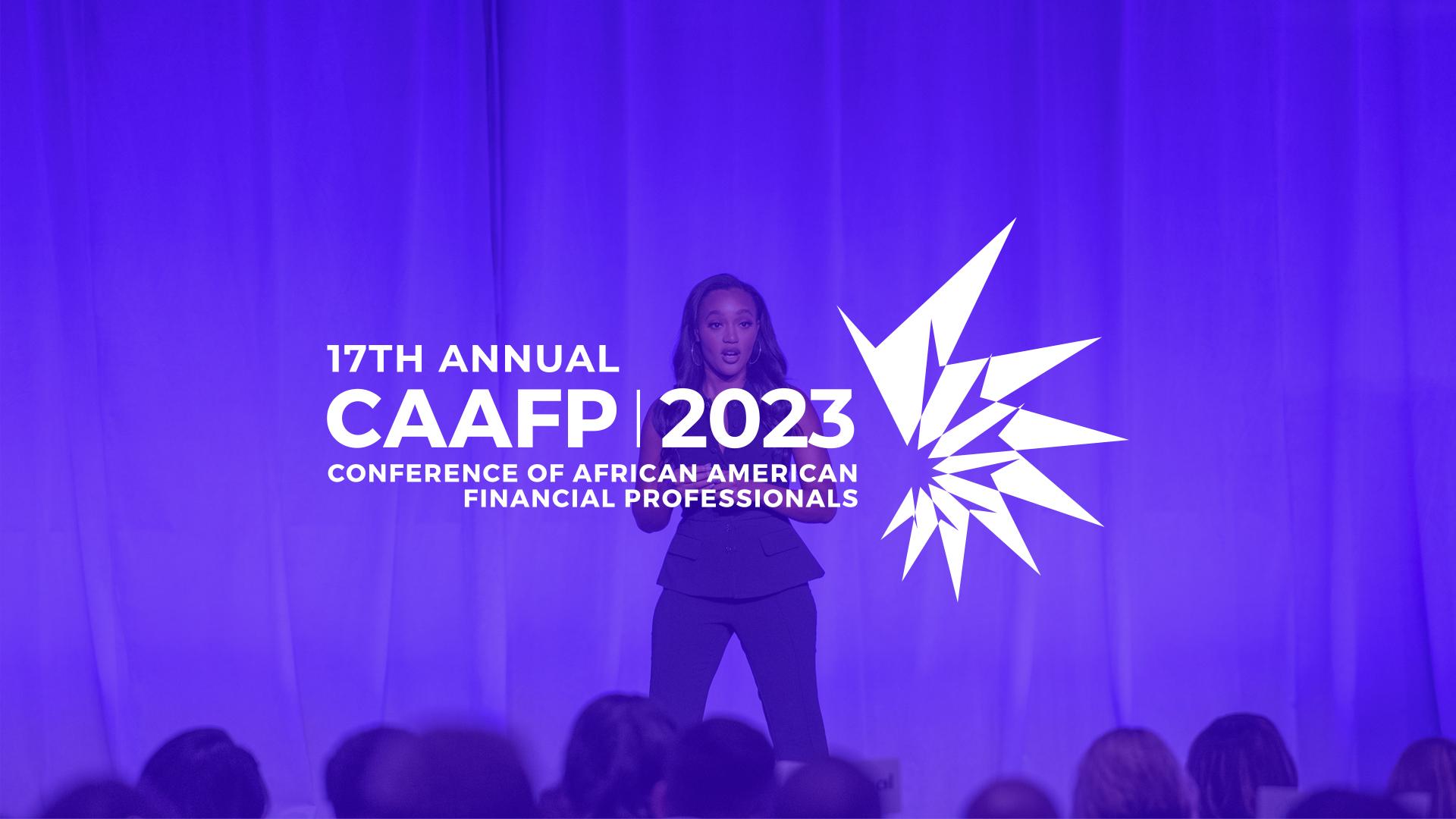 The three-day event entered its 17th year during a time of great changes. Since the nation's renewed racial awakening in 2020, progress has been made on many fronts in the mission to bring greater equality and opportunity for African Americans to public and business spheres. However, the recent Supreme Court decision regarding affirmative action has sparked new conversations about the future of diversity, equity, and inclusion.
Given this state of affairs, speakers at CAAFP 2023 focused on renewing attendees' passion for pursuing change in their organizations and other environments and increasing the power of Black communities through cooperation and commitment. Through inspiring workshops, coaching sessions, networking opportunities, keynote addresses, and more, the conference once again served as a vehicle to bring people of all personal and professional backgrounds together for an exciting and empowering experience.
Finding Balance in Trying Times
The CAAFP's general session opened with words of welcome from College figures including Dr. Pamela Jolly and President and CEO George Nichols III, CAP®. Dr. Jolly, a leader affiliated with the American College Center for Economic Empowerment and Equality, told attendees that while protests and demonstrations can raise awareness about issues of diversity and inclusion, what's really needed is actionable plans to back up the desire for change.
"There was a moment. Now, what we need is a movement,"

Dr. Pamela Jolly
"I want us to be bold, but I don't want us to be spontaneous. I want us to be strategic. Reclaiming Black wealth involves reclaiming our memories, our history, our sweat equity, our communities, and our models of wealth."
Dr. Jolly was followed by Eszylfie Taylor, President of Taylor Insurance and Financial Services, who discussed the interconnectedness of mind, body, and money. A financial and personal wellness guru, Taylor emphasized the need for balance in all elements of life, as well as for ongoing transformative action.
"Your diet isn't only what you eat; it's what you watch, what you listen to, and who you surround yourself with," he said. "I don't believe in winning and losing: I believe in winning and learning. And you can't get upset about results from work you didn't do."
Planning for Success
Day 2 of the conference opened with an address from Lauren Simmons, who at 23 years old became the youngest woman to be a full-time trader in the New York Stock Exchange. Simmons is now a personal finance expert for women and youth, and she detailed how her own relationship with money influenced her career journey.
"Black wealth is a power beyond imagination, but we're running a marathon, not a sprint," she said. "Being wealthy is about having a long-term plan. If we continue to think in a short-term mentality, we will continue to repeat history over and over again."
Simmons also spoke about many pioneers of Black wealth, including Jeremiah Hamilton, who was the first Black man on Wall Street. Having invested in the construction of the country's modern railroad system, Hamilton died with the equivalent of $65 million in assets – and yet very few people know his story, much like the success and destruction of the "Black Wall Street" community in Tulsa, Oklahoma.
"There is power in entrepreneurship. Education alone is not going to close the wealth gap," Simmons said. "We need to stop people from erasing the power we've historically had in this country – and that can be ours again."
In between keynote sessions and workshops on subjects from crypto assets and financial psychology to professional development and other topics, attendees also had the chance to network to form new connections of fellowship and to shop various Black-owned businesses in the Chicago area. The evening was capped off by the annual CAAFP White Party, where speakers, attendees, and other professional guests and staff came together to celebrate the transformative nature of the conference and its legacy of bringing people of all different backgrounds together in solidarity.
A Powerful Call to Continued Action
After more workshops and networking time, the final day of the conference concluded with a panel discussion of Black business leaders, including President Nichols, on how they could combine their efforts to create lasting change.
As leader of The College, President Nichols continued to drive home the message that Black communities, and all communities, are "Stronger Together."
"You can't advance what we are aiming to unless you perform and do the work," he said. "You need to reclaim your own wealth so you can help others reclaim theirs."
With the need for concerted and connected action at the forefront, attendees of CAAFP 2023 left energized and inspired to bring the lessons they learned back to their places of business and communities. The College looks forward to CAAFP 2024, coming August 12-14, 2024, in Atlanta, Georgia!