cb3 tertiary banner
Equipping an Industry for Disability Planning
The College's Center for Special Needs aspires to equip the financial services industry for lifespan disability planning.
cb15 resource post
Related Posts
Sandy Herzlich Tapped to Lead Retirement Strategy at The American College of Financial Services
View Details
Carol Prushan Appointed Senior Vice President, Advancement and Alumni Relations at The American College of Financial Services
View Details
March 10, 2023
There are many barriers experienced by those with disabilities. Maybe you see someone receive an accommodation, and you think they are taken care of — even if that much-needed accommodation is merely to remove physical barriers. You may not realize that is likely only the beginning.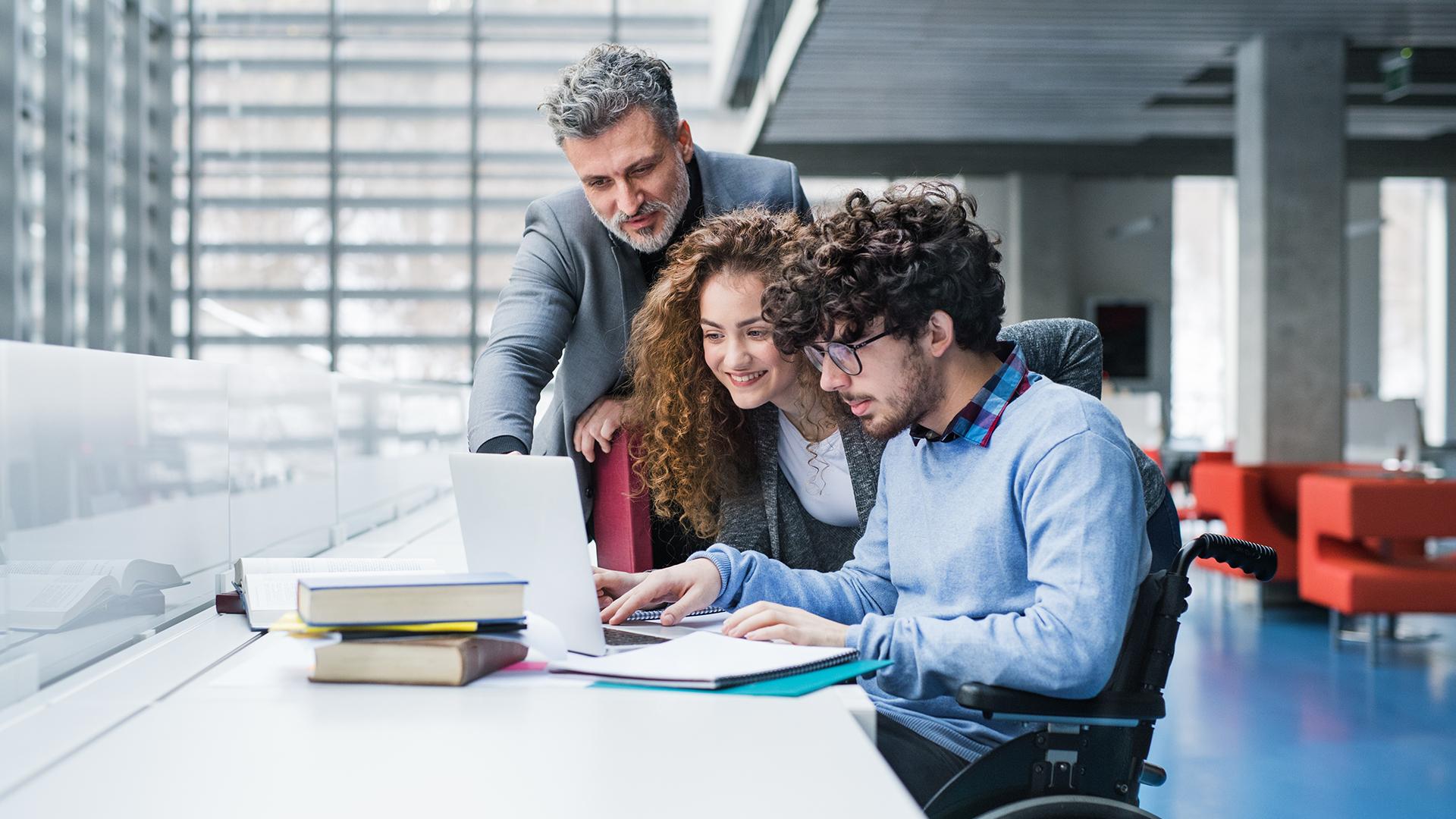 What about the continued mental challenges that go with those ongoing physical challenges — for the person, for their loved ones? Or, what about the barriers you can not see? And of course, what about the costs? The price of mental or physical challenges can be daunting and often include providing personalized therapy or care beyond adapting someone's physical surroundings. 

What happens when someone without disability benefits suddenly needs this level of personal and extra care? Most adults are not prepared for sudden and unexpected disability. Out-of-pocket costs can be quite prohibitive, not to mention how draining they can be on the family's assets and reserves. Whereas, if someone does receive disability income, those benefits can be jeopardized by choices a loved one might make because they think they are helping. 

If you or someone you love happens to be impacted by a disability, you need guidance and advice, action plans, and next steps. You also need to understand regulations and how money moves made by you or someone close to you could impact your eligibility or standing for services that you need or expect to need in the future. 

If you are a financial professional, you better get it right when your clients need this level of expertise because the need is great and growing along with an aging population. According to the CDC, as many as 61 million adults are living with a disability, and to meet the long-term care needs of Baby Boomers, financial professionals need to up the ante on their education and eliminate knowledge gaps in short order. 

This is what Joellen Meckley, JD, MHS, executive director of the American College Center for Special Needs, considers daily. From firsthand experience, she understands that there are misconceptions about resources available to those with disabilities and that disability is not a small, niche practice area for financial professionals but necessary knowledge needed by all those who provide financial guidance.
"The financial services industry has done a disservice in its failure to adequately train and prepare professionals to recognize and help address the issues faced by those living with disability," states Meckley.
While explaining that people with disabilities represent the largest minority population in the United States, Meckley admits she has steep ambitions and hopes to change the perception of and value placed on special needs disability and long-term care planning throughout the industry. She sees three major steps forward. 
#1. Education Throughout a Client's Lifespan
The first promotes expanded research, thought leadership, and education for planning for disability throughout the entire lifespan, as well as a disability that unexpectedly occurs in midlife or later. In her own practice, Meckley tried to involve a client's longtime financial advisor in the planning process. She found that advisors often lacked a realistic understanding of the actual cost of caregiving or long-term care service.

"Many of them didn't know about the various options available to their clients," Meckley said, "and thus they couldn't really help sort through those options from a financial perspective." She explained a shift in the Center for Special Needs' focus to expand its educational offerings scope to serve the entire population. Meckley believes planning for families with special needs children will always "remain a key area of expertise for us, but the reality is that adult-onset disability is also more common than people realize."
Adult individuals and their caregivers are also desperately in need of financial advice to help them deal with what is often drastically changing circumstances in their lives, according to Meckley.
#2. Access to Just-In-Time Learning
These needs also open opportunities within the profession for her second step, ensuring high-quality educational options are easily accessible by developing more continuing education programs and modularized learning opportunities for anyone who wants to better serve this population.

Meckley elaborates how advisors in the field repeatedly tell her there is simply not enough support for them in terms of training. Since only limited and hard-to-find topical issues are available through legal services programs, Meckley sees this as The College's opportunity to fill that gap, even if that is through continuing education and partnership opportunities with advocacy groups that are doing incredible work.

The primary goal for her initiatives is to "spread awareness about the planning and business opportunities that are available to those who are looking to serve these clients." She believes that all advisors need a better base understanding of these issues and that it takes someone who is comfortable with going beyond finances to discuss difficult subjects.

Financial professionals, according to Meckley, "are craving better and more in-depth complex advice so that they can pass it on to their clients."
 
#3. Consumer Education that Drives Deeper Community Connection
Her third goal is intended to alter how financial professionals serve those impacted by disability. Meckley plans to develop educational resources that are delivered directly to consumers, or those who are directly impacted by disability, so that more clients and their advocates can be better informed. She states, "the Center can play a strong role in promoting greater financial knowledge and financial security within the community itself."
The best client is a well-informed client, says Meckley.
"Informed clients understand the value in hiring an advisor who truly understands their unique life circumstances," she states. Through the development of more direct-to-consumer educational options, Meckley hopes to create that well-informed client base. "In increasing awareness of the disability planning opportunities among professionals, more clients are able to find knowledgeable advisors who have the right expertise."
Educating advisors on how to assist in planning and how to connect families with the other key professionals that they need on their team is also essential. Financial advisors see the scope of how disability and chronic health conditions impact their existing clients. However, once younger clients age out of the support guaranteed to them from the states, many parents struggle to navigate the system for their loved one who is now in adulthood. According to Meckley, "parents need to understand how they can help create a support structure for their child that will last even when they themselves are gone someday… this is really life planning.
"Professionals need to support that wide middle swath of the rest of the industry or country that kind of falls in the middle and are getting neglected." Clients do not have unlimited resources, but they also do not always qualify for the same benefits. Meckley wants to "help advisors identify where their efforts can be best directed and the areas in which they need more expertise" by working together with The College's other Centers of Excellence. "Research has already shown that disability disproportionately affects women, minorities, and other groups that our other Centers are focused on as well.
"No one can deny the complexity that's required if you are planning for someone who's living with a disability, no matter what phase of life they're in," Meckley says in discussion about  a myriad of issues. "There needs to be a balance between making sure, for example, that someone is provided with the extra financial support that they might need in life while still maintaining eligibility for public benefits. It is in advising caregivers and family members on their estate planning to make sure that with the best of intentions they don't inadvertently provide financial support to someone that then disrupts their ability to utilize public benefits. There's a need for caregiver advice. There's a need for good accounting advice. Sometimes a family needs a special education advocate because their child is struggling in school and all of these things are tied together. So, it always needs to be a holistic approach."
"My vision for the industry is that someday quality education related to disability and long-term care planning will be viewed as a fundamental part of any well-rounded financial professional's career," Meckley says.
Meckley is currently in the process of updating the Chartered Special Needs Consultant® (ChSNC®) Program curriculum to include a wider range of planning issues to incorporate more applied exercises, such as case studies that are designed to teach advisors very practical skills that they can apply to realistic situations. She states there are actually very few quality CE options available for those practitioners who want to gain expertise in disability planning.
"I've heard a lot of stories where there was a lack of planning and unfortunate results occurred. Again, it's always with the best of intentions." Meckley states, "People are trying to do the right thing, think they're doing the right thing, and it can cause chaos in a situation. You need to plan well and you need to plan early to ensure the best outcome."
"I think financial services are traditionally viewed by many people as only being designed for a certain type of client or demographic," says Meckley. "Under The College's leadership, we're seeking to demonstrate that there is an opportunity for the financial services industry to truly be a force for positive change."
Access interviews featured here and more in our 2022 President's Report.