cb3 tertiary banner
Leaving a Legacy
The College remembers three dedicated alums and donors whose legacies live on in the industry, their companies, and their communities.
cb15 resource post
Related Posts
Sandy Herzlich Tapped to Lead Retirement Strategy at The American College of Financial Services
View Details
Carol Prushan Appointed Senior Vice President, Advancement and Alumni Relations at The American College of Financial Services
View Details
March 17, 2023
"Knowledge is such an important legacy to leave, it creates pathways to confidence and success for future generations to come. The College is honored by the legacies left by Peter, Maury, and Howard." 
–Stephen J. Grourke, CAP®, CFRE, Senior Vice President of Advancement and Alumni Relations, The American College of Financial Services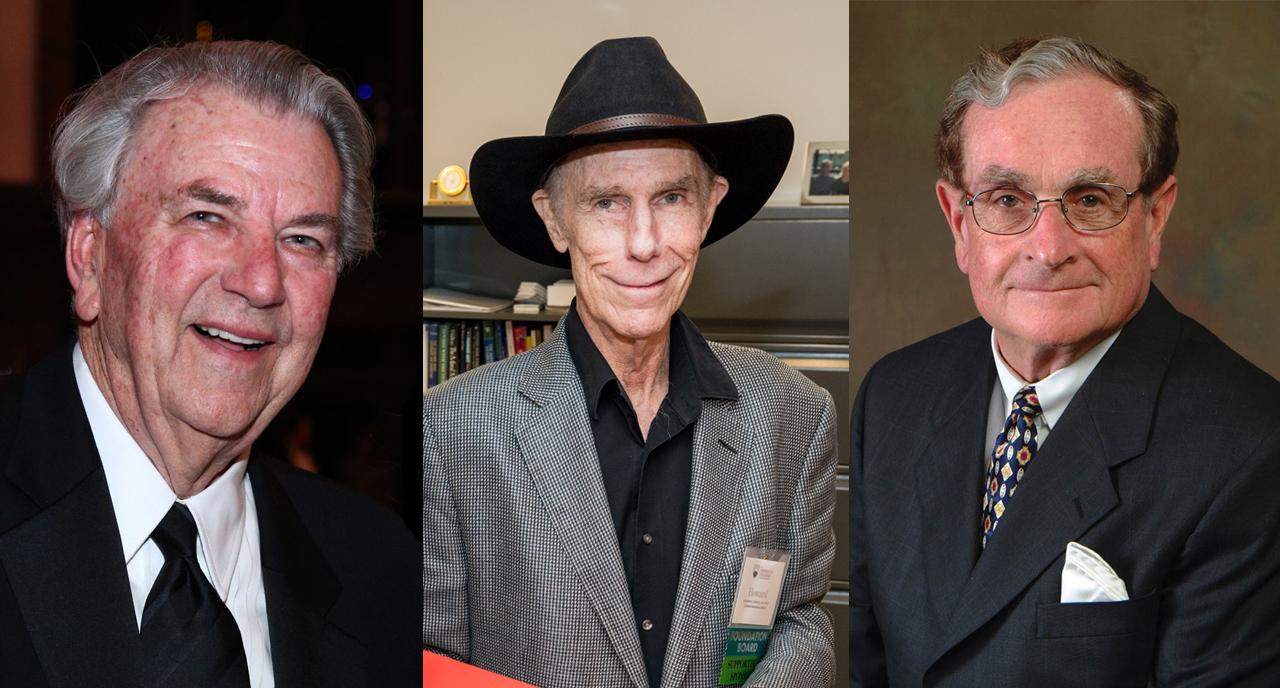 Peter Browne, Howard Cowan, and Maury Stewart pictured left to right. 
The American College of Financial Services has been blessed with dedicated alumni and donors that have devoted their professional and personal resources to ensure the future success of The College. These College champions understand the impact of a College education and how it prepares our students to do great things in an industry and world that needs them.
Peter C. Browne, LUTCF® 
A life of service and professionalism that exemplified Dr. Solomon Huebner's client-first philosophy.
Peter C. Browne, LUTCF®, was a longtime leadership volunteer, loyal donor, and consummate champion for The College. He served on The College's Board of Trustees and was a past chairman of The College's Foundation Board. He was serving on the President's Roundtable and actively working to deepen the partnership between The College and Ameritas that he tirelessly cultivated during his career with Union Central, which then merged into Ameritas Life.
Peter's passion for The College and Union Central was best exemplified through his leadership to help establish the Union Central Larry R. Pike Chair in Insurance and Investments at The College in 2002. Through the evolution of our partnership with Ameritas, The College was able to create the Women in Financial Services scholarship with Women in Insurance and Financial Services (WIFS) in 2021.
Peter received The College's President's Award in 2010 and was awarded the Solomon S. Huebner Gold Medal in 2013, The College's highest honor, and was a member of The College's Loyalty Society and Legacy Society.
Peter was a past NAIFA National treasurer, president of NAIFA-NY, and president of GAMA. Serving for over 60 years in the life insurance industry, he was honored with countless industry awards and recognition, including the 2015 John Newton Russell Memorial Award — the highest honor bestowed upon a living member of the insurance and financial planning industry. He spent his time and resources to ensure that life insurance professionals had access to the knowledge to grow and has left a lasting mark on the profession.
Howard Cowan, CLU®, ChFC®
Industry leader and mentor that always made time to share his ideas and insights on how to strengthen and grow The College.
Howard Cowan, CLU®, ChFC®, was the Founder and President of Cowan Financial Group, which he formed in 1985 and ran until he retired from the organization in 2009. Over Howard's illustrious career, he mentored countless general agents and career agents and was recognized with many prestigious industry honors, including the Massachusetts Mutual Life Insurance Company's highest honor, the National Chairman's Trophy, for an unprecedented 20 years.
Howard always made time to share his ideas and insights on how to strengthen The College. Howard served on The College Foundation Board for eight years and was a member of the Insurance Review Committee. At the time of his passing, he was a member of The College's President's Roundtable, a President's Circle member, Loyalty Society member, Legacy Society member, and major capital campaign donor to The College. His other awards and accolades included the Masters Club, Leaders Club, GAMA Master Agency Award, GAMA First In Class, Master Agency Growth Award, and 
GAMA Hero Leadership Award.
Maurice L. "Maury" Stewart, CLU®, ChFC®, CLF®
A longtime leadership volunteer, donor, and champion for The College and an advocate for life insurance and the financial services industry.
In 1950, after serving our country as a pilot in the United States Air Force, Maurice L. "Maury" Stewart, CLU®, ChFC®, CLF®, started his career with Penn Mutual as a general agent selling life insurance in Topeka, KS.
Because of the transformational impact of his contributions, Maury was a member 
of The College's 2012 Hall of Fame and the 2017 Solomon S. Huebner Gold Medal Winner. 
In addition to being a lifelong learner and a former faculty member at The College 
and attaining many designations, Maury encouraged the establishment of the 
Charles E. Drimal Professorship in Estate Planning. In 2008, he was honored with 
the establishment of the Maurice L. Stewart Lecture at The College in partnership with 
Penn Mutual. The annual lecture addresses issues critical to the practice of leadership 
development and has featured a series of renowned speakers.
Maury's values and passion for leadership are also reflected in The College's Chartered 
Leadership Fellow® (CLF®) designation. While holding the then named George Joseph Chair in Management Education, Maury substantially strengthened the development of the CLF® Program. As a guest lecturer for many years, he shared his enthusiasm and wisdom with generations of CLF® students, building their competence as managers and leaders.
The Legacy Society
The Legacy Society honors those individuals who have informed The College of their estate gift intention or funded a life-income gift or life insurance policy that will support the future of The College. We are grateful for these individuals who are living out their philanthropic goals through their legacy.
To learn more about how you can support the future of The College through an estate gift, please reach out to Anne Marie Gallgher at AnneMarieGallagher@TheAmericanCollege.edu or 610-526-1339.