cb3 tertiary banner
The College Earns Top Workplaces Award for Third Year in a Row
The Philadelphia Inquirer again recognizes The College's people-focused culture as voted by employees.
cb15 resource post
Related Posts
Sandy Herzlich Tapped to Lead Retirement Strategy at The American College of Financial Services
View Details
Carol Prushan Appointed Senior Vice President, Advancement and Alumni Relations at The American College of Financial Services
View Details
July 21, 2023
Pennsylvania's largest newspaper has named The American College of Financial Services as a Top Workplace for the third year in a row.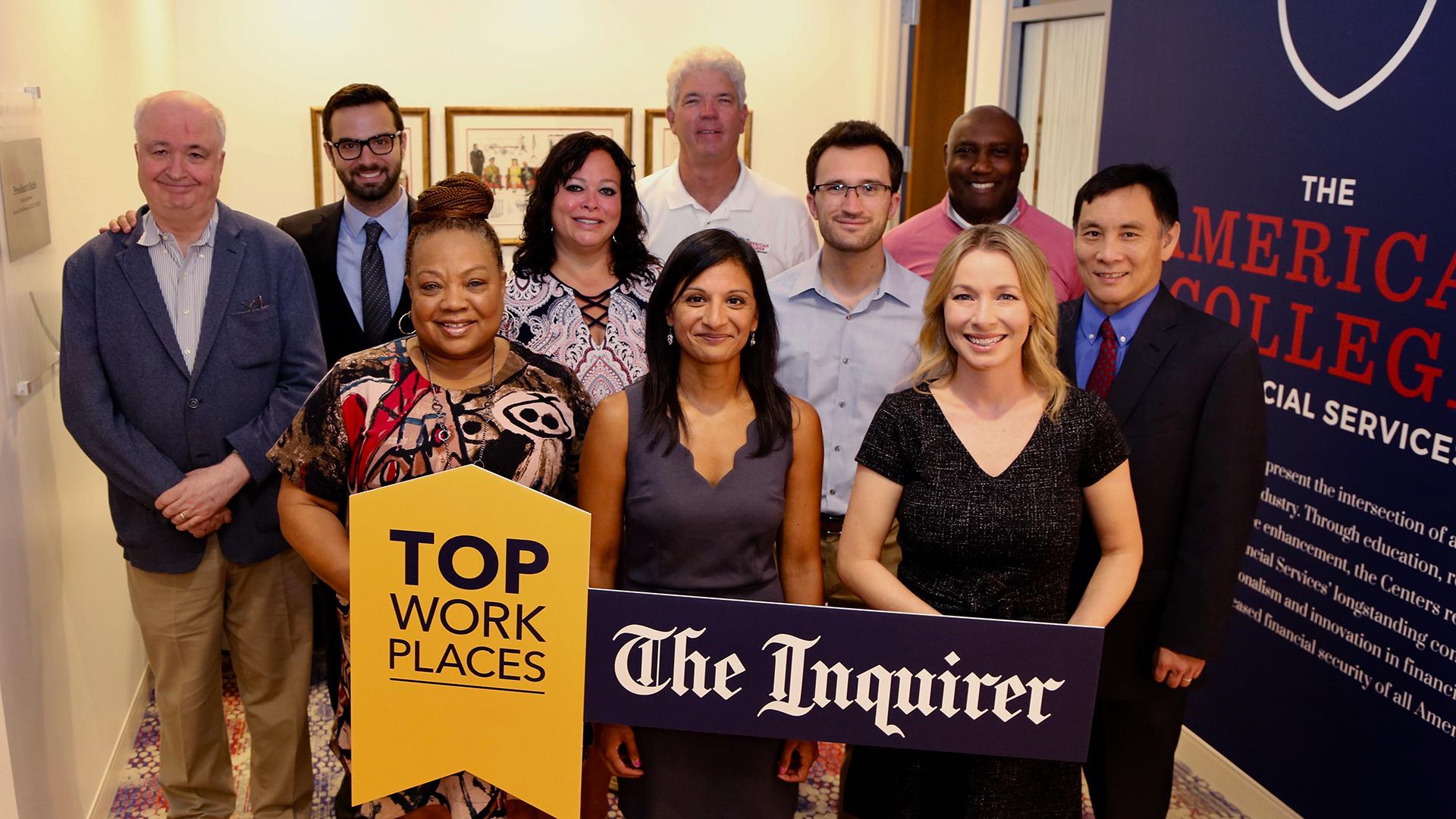 The Top Workplaces list is based solely on employee feedback gathered through a third-party survey administered by employee engagement technology partner Energage LLC and media outlets such as The Philadelphia Inquirer. The anonymous survey uniquely measures 15 culture drivers that are critical to the success of any organization: including alignment, execution, and connection, to name a few. 
"Our people are what make us great," said George Nichols III, CAP®, President and CEO of The College, "and we strive to ensure The American College of Financial Services provides a positive work environment and supportive culture for our workforce of exceptionally talented individuals." 
The successive awards for workplace quality have come after a concerted effort to improve employee engagement at The College.
A Mandate for Cultural Change
In 2019, The College conducted internal surveys to measure employee engagement and take the temperature of its faculty and staff. The results showed low engagement and uncertainty, so College leadership committed to addressing areas of concern. 
Recognizing the need for improvement, College leaders immediately implemented a three-point plan for cultural change. 
First, they shared the survey results with the entire College in the interest of greater accountability and transparency. Next, they began the process of forming a Culture Committee with representation from non-supervisory faculty and professional staff, including an HR representative with facilitation from an external consultant, to recommend improvements in the workplace environment. Lastly, they solidified cultural improvement as an ongoing strategic initiative for The College, making building a better culture one of its highest priorities.
Improvement in Key Areas 
The results were seen quickly – and as Deborah Eskridge Glenn, MA, MSM, SPHR, SHRM-SCP, Vice President of Administration and Chief Human Resources Officer attested, they spoke for themselves. 
"In 2020, our engagement score with employees improved by 38%, and since then, we've continued to perform above local and national engagement rates," she said. "Due to our elevation of cultural change as a strategic initiative, employees at The College now use words like 'inclusive,' 'evolving,' 'engaging,' 'transparent,' and 'positive' to describe our culture." 
When compared to its peer organizations, The College can now be found in the top 5% of surveyed employers in the Philadelphia area in terms of work-life balance and clued-in employees. It also ranks in the top 25% when looking at qualities such as supportive managers, trusted leadership, strong values, open-mindedness, innovation, employee appreciation, and company direction. 
The most visible effect of The College's cultural shift, however, was its identification as a Top Workplace in the region by The Philadelphia Inquirer in 2021. And as confirmation that real change had taken place, The College was recognized again in 2022 and now in 2023. 
A Place Where Employees Do Meaningful Work
The Culture Committee, which includes representatives from every department, has focused on improvement by seeking employee feedback in three primary areas. The first is meaningfulness: Do you feel the work you do is important? The second is interdepartmental cooperation: Are we all working together and collaborating as effectively as we can? The third is execution: Are we doing what we say we're going to do in regard to following the recommendations we make? 
Listening to employee feedback has allowed The College to identify issues, develop action plans, and implement those changes. As a result, employee engagement, alignment, and satisfaction have remained high. 
"Working at The American College of Financial Services has taught me that small institutions can do big things! Working with and learning from such a talented group of people has been my privilege." 
– Leah Selekman, Academics Program Coordinator 
"The College has given me the guidance necessary to grow into the professional I am today, and I've been fortunate enough to have made many friendships and professional relationships that will last me a lifetime." 
– Jeannette McGuire, Digital Communications Manager 
"The College was the first company I worked for, and I hope this is where I retire. I have committed my entire professional life to The College because I believe in its mission, values, and ability to serve students. I could not imagine working anywhere else." 
– Rich Scottoline, Director of Admissions and Enrollment Management 
Building on our recent success, it's our goal to continue to make The College a great place to work.