cb3 tertiary banner
The College Secures Another Prestigious Award for RIA Firm Outreach
The College secures industry plaudits for its survey of Registered Investment Advisors (RIAs).
cb15 resource post
Related Posts
23 Ways Financial Advisors Can Serve and Hire More Veterans
View Details
Honoring our Heroes: Veterans Day, November 11, 2023
View Details
October 06, 2023
In August 2023, The American College of Financial Services achieved another first in a long history of them: winning a financial content marketing award from the prestigious and widely-recognized Gramercy Institute for its work on educating and advancing the careers of Registered Investment Advisors (RIAs).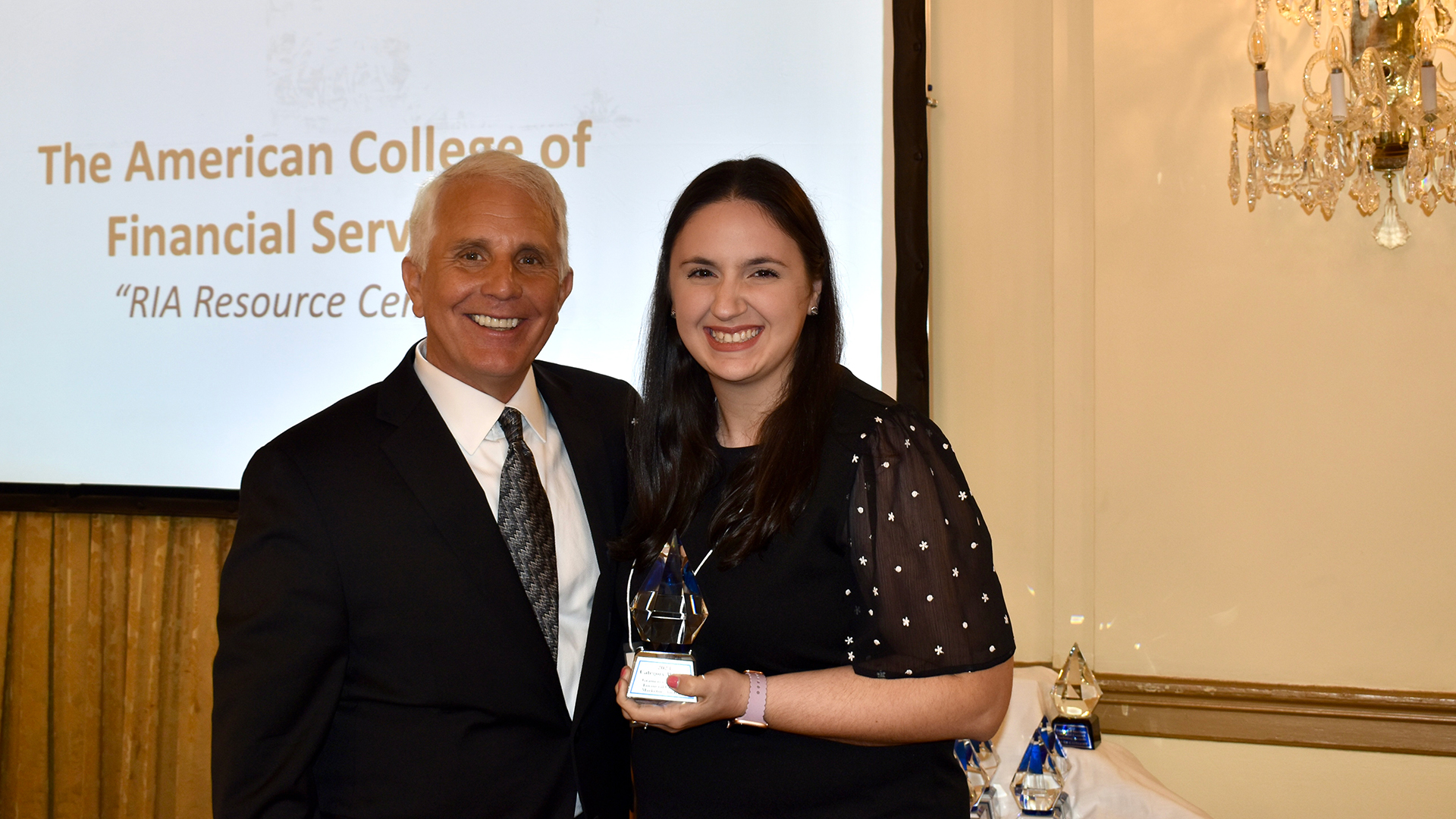 While The College is no stranger to recognition in the financial services industry, the Gramercy Institute 2023 Financial Content Marketing Awards marked the first time a piece of its marketing content was singled out and recognized for a content award. The announcement came shortly before The College also took home an award for Industry Research Provider from the 2023 WealthManagement.com Wealthies Awards–the second in two years–for the very content piece honored by the Gramercy Institute.
Specifically, the Institute recognized The College's efforts to reach out to independent financial advisors through its 2022 RIA Growth and Specialized Knowledge Survey, a part of The College's RIA Resource Center. Through the survey, The College reached out to nearly 400 financial advisors who weighed in on their paths toward growth and provided invaluable insights into the state of the financial services industry, the pressures they face from changing client demands, and the solutions they've leveraged to increase earnings and grow their teams.
A Helping Hand to Independent Financial Advisors
In 2021, as part of a broad refocusing on education for specific segments of the financial services industry, The College undertook an effort to reach out to independent advisors and RIAs to understand the challenges they faced in competing with larger industry firms and the secrets to success that allowed them to grow and scale in a difficult environment. Initial conversations suggested a key component to success for independent financial advisors and their firms: in-depth, specialized knowledge of niche but critical components of financial planning.
These findings led to the launch of The College's RIA Profitability Plan: a document pointing out the benefits of a specialized team of independent advisors, all working in concert, to keep financial advisors' clients in-house and minimize the need for outside referrals. As financial industry research often shows clients prefer working with smaller advisory firms to large conglomerates, RIAs are in a unique position to customize their teams with financial advisors well-versed in specific areas of planning, from retirement and wealth management to insurance, taxation, special needs planning, and more. Additionally, as an institution with nearly 100 years of leading the financial services industry, The College is well-positioned to offer education in such areas with its acclaimed designation and degree programs, such as the Retirement Income Certified Professional® (RICP®), Wealth Management Certified Professional® (WMCP®), Chartered Life Underwriter® (CLU®), Chartered Special Needs Consultant® (ChSNC®), and others.
Taking the Pulse of the RIA Community
To further the impact of the RIA Profitability Plan, however, The College also needed real-time data from independent financial advisors on what the biggest challenges, obstacles, and questions were that they faced every day. In early 2022, The College began the RIA Growth and Specialized Knowledge Survey to get just those answers.
Over the course of several months, responses flooded in–and what was revealed was illuminating. Independent advisors reported that business growth was foremost on their minds, with 35% of respondents saying organic growth was their firm's top priority and 64% saying they planned to add up to five new financial advisors to their team in the next three years. Independent financial advisors also largely recognized the importance of advanced financial services education, with over 75% saying the well-known CFP® certification was not enough to guarantee professional success alone.
Furthermore, independent financial advisors confirmed The College's offerings as a financial educator were well in line with the areas they sought further instruction in: 71% desired more education in retirement planning; 64% in investment management; and 60% in estate planning. These focus areas align with multiple College designation and degree programs, including the aforementioned RICP® and the Chartered Financial Consultant® (ChFC®).
Perhaps most importantly, RIAs confirmed The College's approach to specialized knowledge as the key to business growth and scaling, with nearly 80% of respondents reporting knowledge from designation programs supported service integration, improving their ability to hold onto clients with diverse needs. They also cited advanced financial education as a critical factor in their success, ranking it above even new technology as a top priority for independent financial advisors.
Iterating on RIA Success
Throughout 2022 and into 2023, The College has continued to build on the knowledge gathered from the response to the RIA Growth and Specialized Knowledge Survey with additional campaigns and content pieces. These include an "RIA Stories" video series in which independent financial advisors share how The College's designation and degree programs have directly impacted their ability to serve clients better. Many RIAs shared similar experiences of how satisfying it was, when confronted by a client whose questions they didn't feel qualified to answer, to simply send them down the hall to a colleague who specialized in their area of need rather than calling for an outside referral and potentially losing business.
The College also held an RIA-focused webinar in which WMCP® Program Director Michael Finke, PhD, CFP® spoke with a group of independent financial advisors about how they equipped their practices to adequately respond to clients' needs in any market environment.
With one of its cornerstone initiatives now recognized by not one, but two prestigious marketing awards in a single year, The College plans to continue its drive to educate and empower RIAs and independent financial advisors in the years to come. The College also extends its thanks to the Gramercy Institute for their consideration!