cb3 tertiary banner
The American College of Financial Services Launches the FinServe Network with an Inaugural Class of Ambassadors from Across the Industry
These exemplary professionals and lifelong learners will advocate for the mission and vision of The College, to better serve financial professionals and society
Home
/
Knowledge Hub
/
The American College of Financial Services Launches the FinServe Network with an Inaugural Class of Ambassadors from Across the Industry
cb15 resource post
Related Posts
Sandy Herzlich Tapped to Lead Retirement Strategy at The American College of Financial Services
View Details
Carol Prushan Appointed Senior Vice President, Advancement and Alumni Relations at The American College of Financial Services
View Details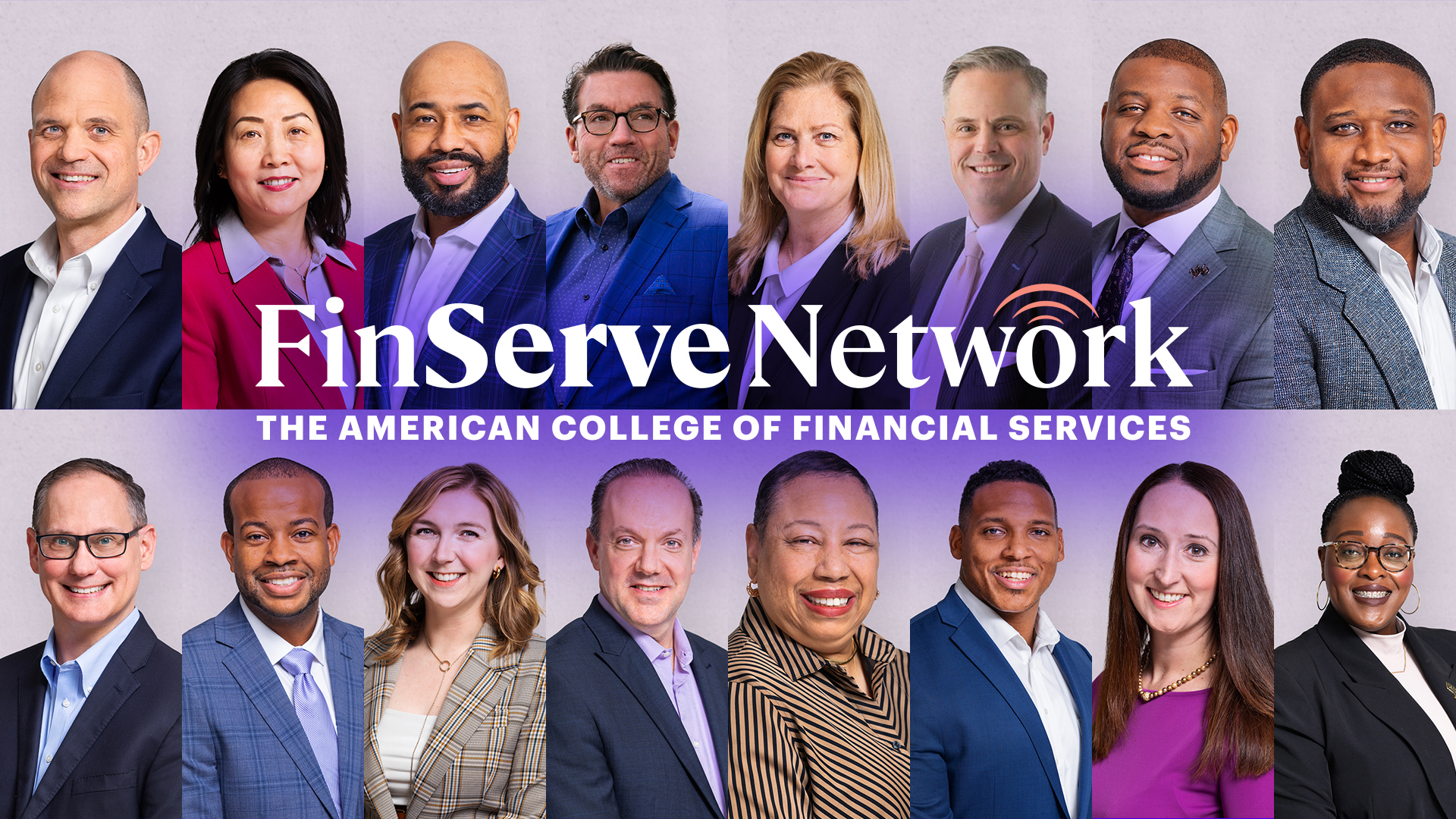 KING OF PRUSSIA, PA – September 12, 2023 – The American College of Financial Services is proud to announce the launch of the FinServe Network, a remarkable cross-section of leaders and rising stars in financial services, including College alumni and dedicated volunteers who represent the uniqueness and diverse landscape of the profession.  
"We are honored to have these ambassadors join the inaugural FinServe Network class and partner with The College to reach our bold strategic vision to better serve financial professionals and society for the next 100 years," said George Nichols III, CAP®, President and CEO of The American College of Financial Services. "Through valuable connections and the networks derived from those relationships, we are advancing the conversation around what the financial services profession should truly be. We couldn't be prouder to collaborate with these leaders and look forward to working together to help redefine the future of financial services."
The FinServe Network serves as a valuable resource for The College, advocating on behalf of its vast alumni network, providing unique perspectives and expertise on industry trends, and sharing a collective passion for lifelong learning. FinServe ambassadors will provide a behind-the-scenes preview into the innovative ways The College is growing with the intent of sparking ideas to put forward in their own careers. Issues such as training, retention, career development, access to financial services and practice management are all topics that were workshopped during the FinServe Network's first in-person gathering in Spring 2023, and these conversations will continue as The College identifies additional areas to best serve its alumni in their career paths.
"The opportunity to be involved in shaping the programs and offerings of The College to truly impact our colleagues and future professionals is extremely inspiring," said FinServe ambassador Heather Welsh, CFP®, AEP®, MSFS, Vice President, Wealth Planning Department Leader, Sequoia Financial Group. "The exchange of ideas with other College alumni has always been so valuable to me and formalizing this forum opens so many opportunities to meaningfully impact the industry. Financial services and financial education is for everyone."
The ambassadors are also highly committed to working with The College to create content to inspire and engage in guided conversation on The College's new website, across social media, and at industry events.
"I'm honored to go beyond broker/dealer affiliations and join a group of financial planning and wealth management leaders chosen by The American College of Financial Services," said FinServe ambassador Padric Scott, WMCP®, ChFC®, CLU®, CAP®, AEP®, CFP®, CCFC, President and CEO, Crossroad Capital Partners. "This noble profession is constantly evolving, and it is exciting to be at the forefront of that conversation. Our goal as FinServe ambassadors is to continue to expand the opportunities offered through our connection with The College and foster sustained growth through those connections that will hopefully open new avenues for access."
Meet the FinServe Network ambassadors partnering with The College to benefit society at TheAmericanCollege.edu/FinServeNetwork.  
Inaugural FinServe Network Ambassadors:
Jason Austell, CFP®, MSFS, ChFC®, CLU®, RICP®, AEP®, CAP®, CASL®, MassMutual
Nancy Du, MBA, RICP®, CFP®, Ashford Advisors
Mary Fischer-Nassib, CAP®, Sow Good Now
Drew Gerling, MSFS, ChFC®, CLU®, CAP®, RICP®, CFP®, Thrivent
Centario J. Grier, J&G Legacy Financial Group
Terry Parham, Jr., CFP®, ChFC®, CLU®, RICP®, WMCP®, Innovative Wealth Building
Richard Peck, CFP®, ChFC®, CAP®, Richard C. Peck Consulting, LLC
Alanah Phillips, Break Up With Your Broker-Dealer, Advisor Launch Pad
Angela Ribuffo, CFP®, RICP®, ChFC®, WMCP®, CDFA®, CLTC®, Raion Financial Strategies, LLC
Irv Rosenzweig, ChFC®, CLU®, AEP®, CFP®, Diversified, LLC
Padric Scott, WMCP®, ChFC®, CLU®, CAP®, AEP®, CFP®, CCFC, Crossroad Capital Partners
Andrew Tudor, CFP®, CAP®, RICP®, Alchemist Wealth
Heather Welsh, CFP®, AEP®, MSFS, Sequoia Financial Group
Fatima T. Williams, FSCP®, New York Life Insurance Company, LLC
Marco Williams, CFP®, J.P. Morgan
Scott A. Winslow, MSFS, ChFC®, CLU®, RICP®, AEP®, CCFC, Nabell Winslow Investments & Wealth Management   
 
###
ABOUT THE AMERICAN COLLEGE OF FINANCIAL SERVICES   
Founded in 1927, The American College of Financial Services is the nation's largest nonprofit educational institution devoted to financial services professionals. Holding the highest level of academic accreditation, The College has educated over 200,000 professionals across the United States through certificate, designation, and graduate degree programs. Its portfolio of applied knowledge also includes just-in-time learning and consumer financial education programs. The College's faculty represents some of the foremost thought leaders in the financial services industry. Visit TheAmericanCollege.edu and connect with us on LinkedIn, Twitter, Instagram, Facebook, and YouTube. Discover all the ways you can expand your opportunities with us.
Contacts:
Sarah Tremallo   
908-967-0381 / stremallo@jconnelly.com     

Lindsey Allumbaugh   
678-643-1310 / lindsey.allumbaugh@theamericancollege.edu