cb3 tertiary banner
The American College of Financial Services to Host 9th Annual Clambake & Soldier-Citizen Award Ceremony Empowering Those Who Serve
Honors Soldier-Citizen Award Recipient and Former Chairman of the Joint Chiefs of Staff, Admiral Michael G. Mullen, USN (Ret.)
Home
/
Knowledge Hub
/
The American College of Financial Services to Host 9th Annual Clambake & Soldier-Citizen Award Ceremony Empowering Those Who Serve
cb15 resource post
Related Posts
Sandy Herzlich Tapped to Lead Retirement Strategy at The American College of Financial Services
View Details
Carol Prushan Appointed Senior Vice President, Advancement and Alumni Relations at The American College of Financial Services
View Details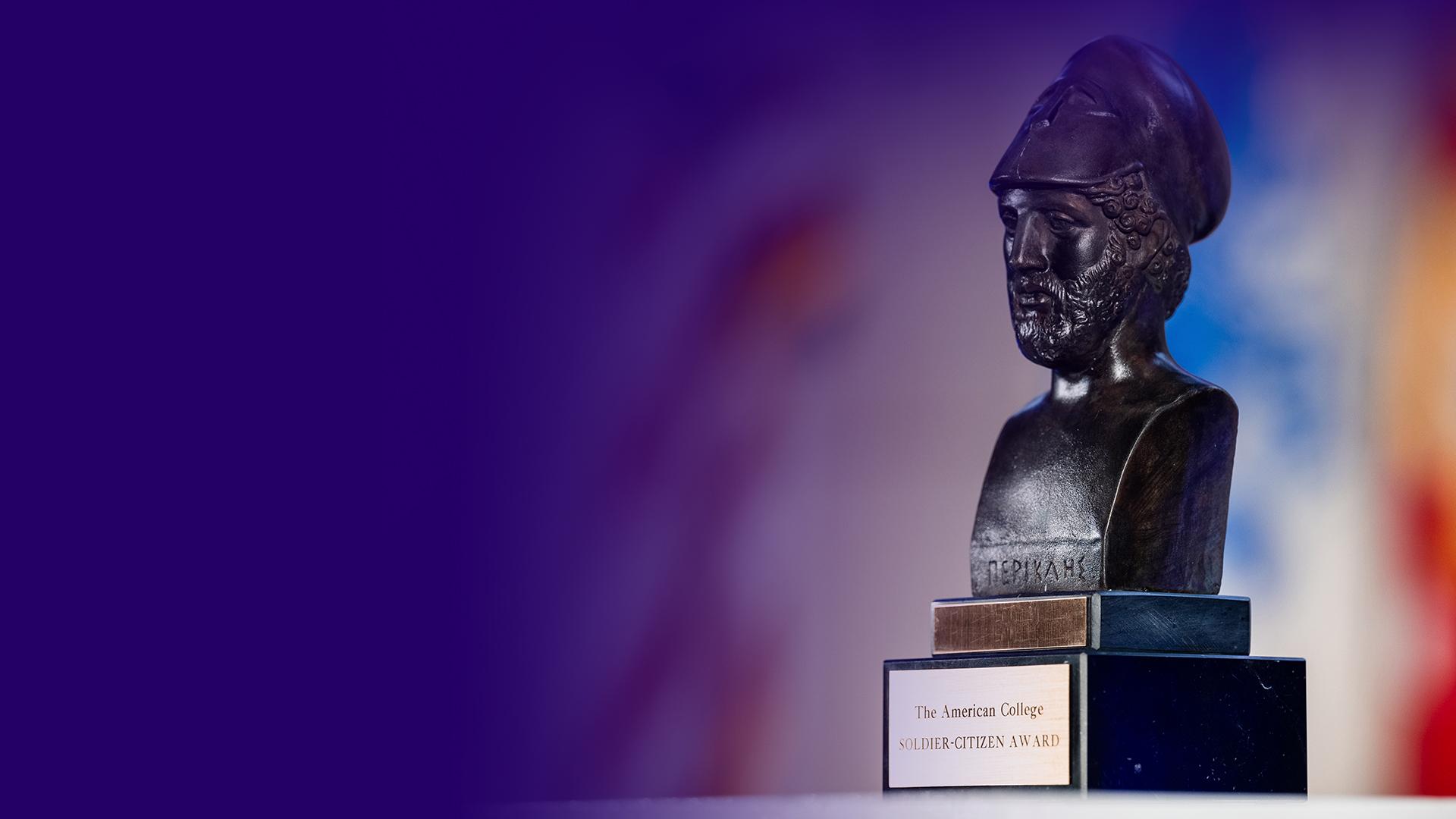 KING OF PRUSSIA, PA – September 7, 2023 – The Annual Clambake & Soldier-Citizen Award Ceremony, hosted by The American College of Financial Services and the American College Center for Military and Veterans Affairs, and supported by the Center's founding sponsor and partner, Penn Mutual, will take place September 21, 2023, at the National Constitution Center in Philadelphia, Pennsylvania. The event, which is celebrating its ninth year, transforms the lives of active-duty, guard, reserve members, veterans, and their spouses by raising money for full scholarships for professional designations and degree programs offered by The College.
"We've been here for military families for over 10 years, with roots that go much deeper, offering life-changing career transition support and opportunities for those who have honorably served in the Armed Forces," said Jim Roy, #16 CMSAF, USAF (Ret.), Executive Director of the Center for Military and Veterans Affairs. "We couldn't do the work we do without the impactful donations of partners, organizations and individuals. This event is a celebration of that support and an opportunity to honor those who serve."
The event features a patriotic, informative, and moving program, highlighting the work of the Center and the promise of the veterans and service members it serves. The cornerstone of the Clambake is The American College Soldier-Citizen Award, established in 2014 to recognize individuals in the financial services industry who have made significant contributions to the United States military, their community, and our society. The award aims to celebrate sacrifice, success, and service. The 2023 Soldier Citizen Award Recipient is Admiral Michael G. Mullen, USN (Ret.)
"Admiral Mike Mullen truly exemplifies the values of a soldier and a citizen. As a soldier, he has given over 40 years of military service to our nation at the highest levels of leadership," said John M. Howard, Chairperson of the Board of Trustees of The American College of Financial Services. "As a citizen, he has done significant work in the financial services industry, held numerous board positions with for-profit and nonprofit organizations, taught national security decision-making policy, ethics, and leadership, and has received many distinguished awards. Much of his work with non-profit organizations is related to assisting military veterans and their families. It was an honor to nominate Admiral Mullen for this award in recognition of his sacrifice, success, and service."
Admiral Mullen is President of MGM Consulting, which counsels global clients on related issues to geo-political developments, national security interests, and strategic leadership. He served as the 28th Chief of Naval Operations from 2005–2007 and the 17th Chairman of the U.S. Joint Chiefs of Staff for Presidents Bush and Obama from 2007 to 2011. He led the military during a critical time of change and transition.  Admiral Mullen advanced the rapid fielding of innovative technologies, championed emerging and enduring global partnerships, and promoted new methods for countering terrorism. After his retirement from the United States Navy in November 2011 after 43 years of honorable service, Admiral Mullen joined the corporate boards of General Motors from 2013–2018 and Sprint from 2013–2019. He serves on numerous boards, including Bloomberg Philanthropies, Naval Academy Foundation, Naval Postgraduate School Foundation, and a wide array of nonprofit organizations dedicated to improving the growth, development, recovery, and transition of military veterans and their families.
This year's Clambake will be emceed by Tracey C. Jones, MBA, PhD, Center Advisory Council Chair, author, speaker, veteran, publisher, podcaster, and international leadership expert, who currently serves as president of Tremendous Leadership and T3 Solutions. The Center for Military and Veterans Affairs has experienced robust growth since its launch in 2012 thanks to generous support from corporate and private donors, and many members of the military community. The annual Clambake & Soldier-Citizen Award Ceremony continues to generate professional interest and garner financial support for the important mission of the Center.
The following morning, on September 22, 2023, the Military Center will host a Leadership Symposium, "Bridging the Gap in an Ever-Changing World", that includes a panel of distinguished leaders from academics, business, and the military. The panel will be followed by the annual Maury Stewart Lecture, supported by Center Founding Partner and Sponsor Penn Mutual Life Insurance Company. The lecture, which engages the most notable individuals from diverse disciplines to address themes and issues critical to leadership development in the financial services profession, will be delivered by marquee speaker Colonel Nicole Malachowski, USAF (Ret.) on the subject Harnessing Headwinds: Successfully Navigating Change & Adversity. She is a combat veteran and the first woman pilot on the Thunderbirds Air Demonstration Squadron.
Join the Center's work to empower those who serve with the gift of knowledge, education, and career transition opportunities. Make your gift today at TheAmericanCollege.edu/Veterans.
###
ABOUT THE AMERICAN COLLEGE OF FINANCIAL SERVICES   
Founded in 1927, The American College of Financial Services is the nation's largest nonprofit educational institution devoted to financial services professionals. Holding the highest level of academic accreditation, The College has educated over 200,000 professionals across the United States through certificate, designation, and graduate degree programs. Its portfolio of applied knowledge also includes just-in-time learning and consumer financial education programs. The College's faculty represents some of the foremost thought leaders in the financial services industry. Visit TheAmericanCollege.edu and connect with us on LinkedIn, Twitter, Instagram, Facebook, and YouTube. Discover all the ways you can expand your opportunities with us.
Contacts:
Sarah Tremallo 
908-967-0381 / stremallo@jconnelly.com  
Lindsey Allumbaugh 
678-643-1310 / lindsey.allumbaugh@theamericancollege.edu