cb3 tertiary banner
How Can Financial Advisory Firms Prepare for A More Diverse Future?
Learn how – and why – financial advisory firms need to boost their inclusion efforts to succeed in a more complex and diverse America.
cb15 resource post
Related Posts
7 Tips to Help Black Clients Find Multigenerational Success
View Details
CAAFP 2023 Highlights the Power of Financial Advice in Black Communities
View Details
Conference Focuses on "Reclaiming Black Wealth"
View Details
Diversity, Equity & Inclusion Research
December 01, 2020
Today's advisory firms are falling short on diversity and inclusion. In a wide-ranging industry survey, we explored how this may negatively impact firms' future success and what they can do to change it.
The Current Situation
It is no secret that the financial advice industry has remained largely aging, male, and White even as America has grown more diverse, and women and minorities have gained control of a greater share of the nation's wealth (see Figure 1). 
American women control more than $10 trillion of financial assets. 
Between 2016 and 2019, Black and Hispanic family wealth rose 33% and 65%, respectively, compared to 3% for white families.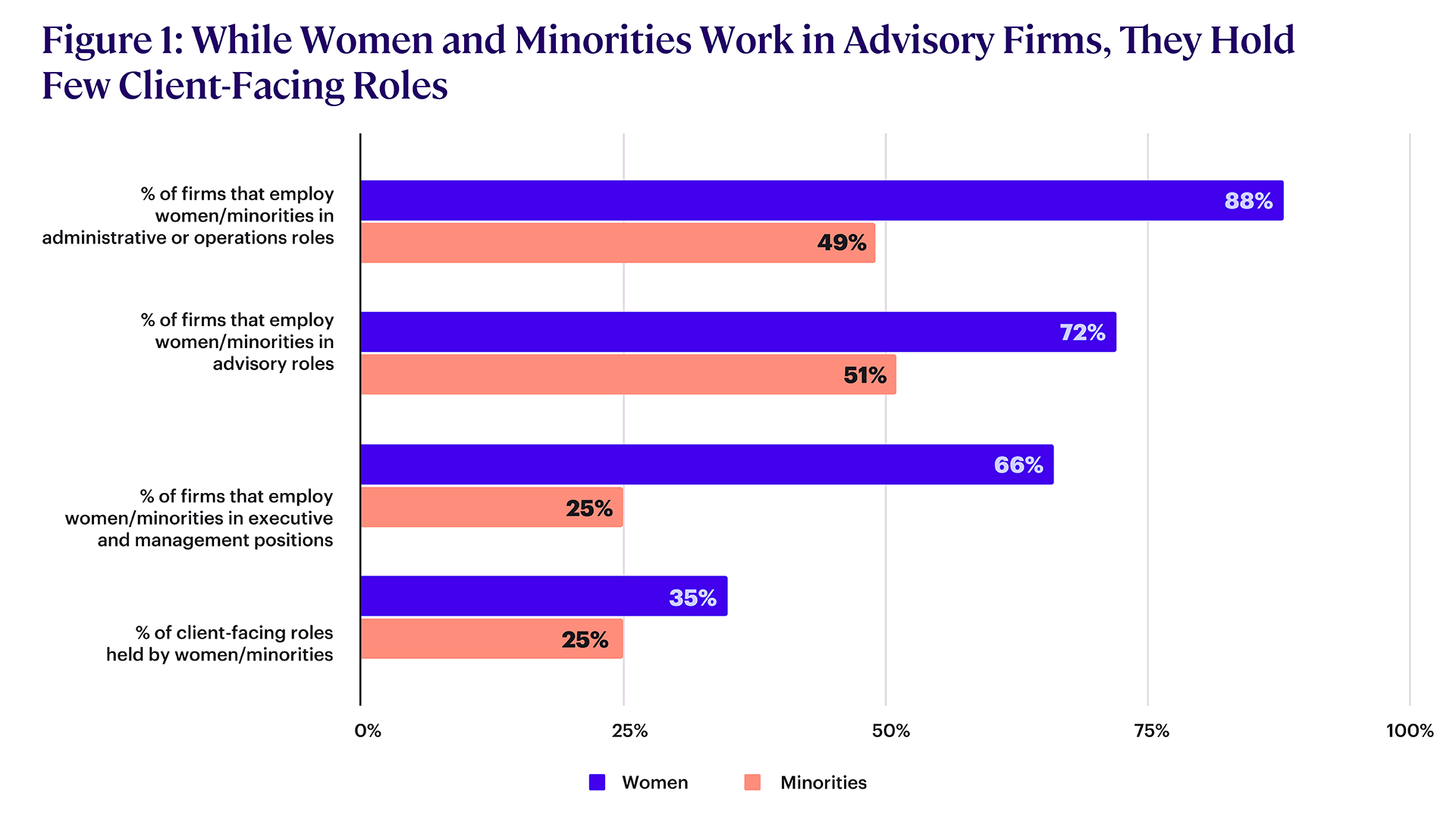 The American College of Financial Services. Diversity & Inclusion in Financial Advice 2020. 2020. 
As a result, many industry experts worry about the profession's long-term growth and survival prospects. Unless firms can attract more minority, young, and female practitioners, there is a real risk that the industry will struggle to remain relevant in the decades ahead. 
To better understand the factors driving the industry's lack of diversity and what is needed to promote change, we conducted The American College of Financial Services Diversity & Inclusion in Financial Advice Survey. Here is what we found. 
The Roadblocks
Almost 60% of respondents to the survey recognized that lack of diversity is a problem within the advice business. However, relatively few believed that their firms are working to resolve the problem: 
Only 35% said their firm tries to foster racial diversity in its staff. 
Only 36% said their firm works with suppliers committed to diversity. 
Our research found that there are several structural factors standing in the way of increased diversity in financial advisory firms. 
Limited Entry Points – Less than 20% of firms used online postings to recruit new advisors, with 44% preferring to use networking. Unfortunately, by relying on networking for new talent, advisory firms tend to replicate the demographic mix of their current advisors and staff. 
Business-building Expectations – Many firms expect advisors to pay for themselves immediately or very quickly. They, therefore, tend to hire already-successful advisors who arrive with their own book of business, which results in no change in the industry's demographics. Firms also often expect new advisors to rely on their own network of affluent investors to build a book of business and generate leads, which disadvantages candidates from less privileged backgrounds who do not have a network to tap. 
Lack of Transparency in Distributing Sales Leads – While 60% of advisors felt leads and new clients were distributed fairly at their firm, 71% of firms lack a visible process for distributing leads. With limited transparency and accountability in how leads are distributed, women and minority advisors may find themselves at a disadvantage. 
The Solution
There are many actions that firms can take to accelerate their diversity efforts, including: Appoint an executive with formal responsibility for diversity. Developing mentoring programs. Implementing collaborative conflict resolution procedures. Allowing anonymous reporting of harassment. Setting formal workforce diversity goals. Offering diversity education and training. Establishing a diversity committee. 
To learn more about how well these and other strategies work and how your firm can implement them, download the full survey results today.