cb3 tertiary banner
FinServe Network Advisors Explore the Future of Philanthropy
A panel discussion on how the charitable giving landscape is evolving and how advisors can keep up.
cb15 resource post
Related Posts
The Many Ways to Leave a Legacy, with ACFS President George Nichols III
View Details
FinServe Network Advisors Explore the Future of Philanthropy
View Details
Philanthropic Planning Insights
April 18, 2023
Philanthropy was a hot topic at the College's inaugural 2023 FinServe Network Summit, as advisors continue to expand their work in this important and growing field.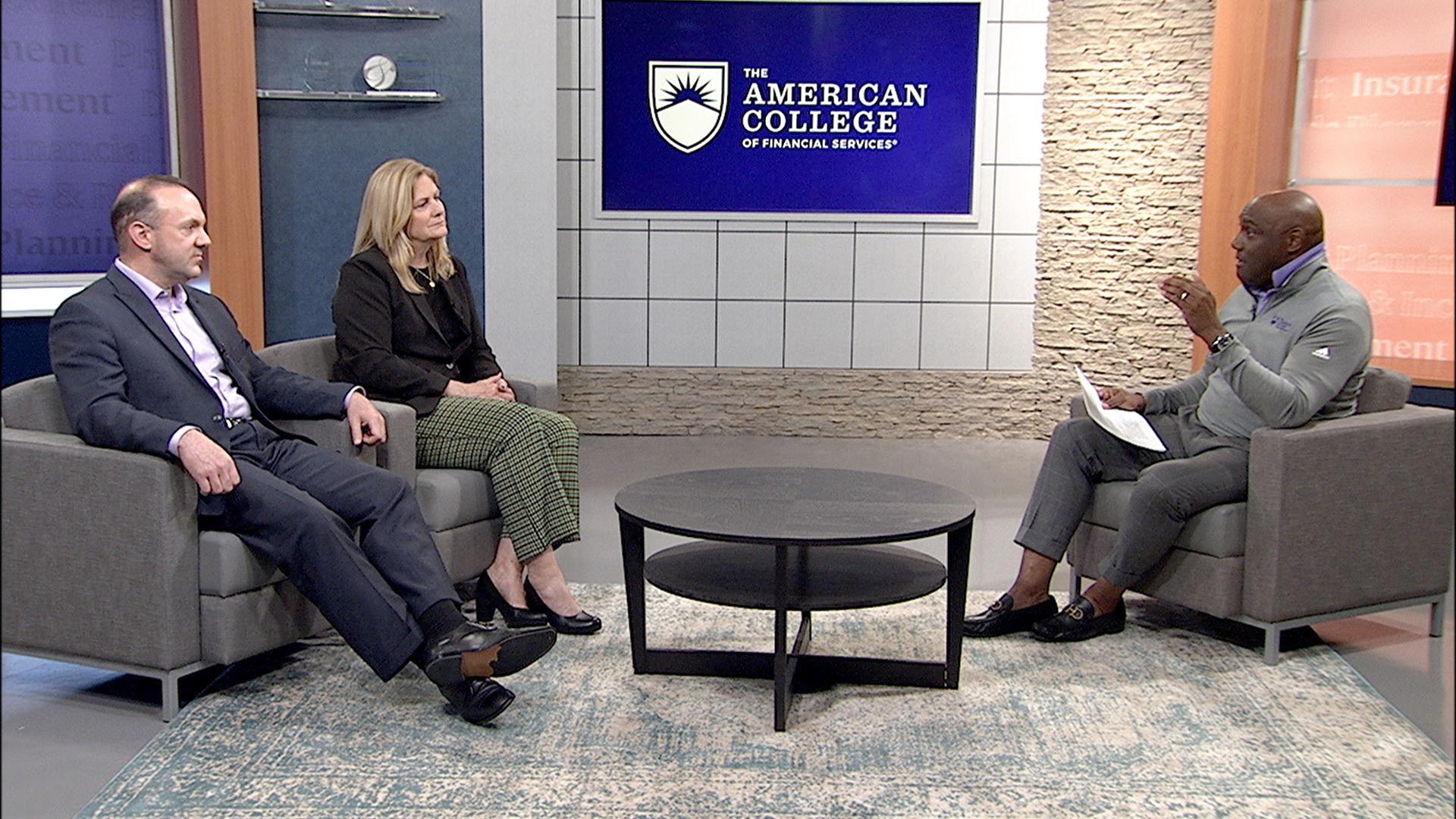 The College's President and CEO George Nichols III, a Chartered Advisor in Philanthropy® (CAP®), hosted a panel discussion that focused on prominent trends in philanthropy, ranging from the growing role of women in charitable giving to the importance of building a more collaborative philanthropic ecosystem.
A $30 Trillion Wealth Transfer
The first topic the panelists tackled was the role of women in philanthropy. Observing that an estimated $30 trillion will transfer to women over the next 10 years, President Nichols asked his guests what advisors can do to better serve the charitable giving needs of these future decision-makers. 
"In my experience with women, they are very philanthropic. They are very attuned to their communities and helping other people, but they're also concerned about saving enough for retirement and so on," said Rick Peck, CFP®, CHFC®, CAP®, a special advisor to the philanthropy services team at the New Hampshire Charitable Foundation. "So, they do want to make a difference and they are looking for their advisors to help open the door for that discussion." 
Unfortunately, however, advisors do not always meet their needs. As President Nichols pointed out, 80% of women who inherit money change their advisors within the first year. This is understandable, according to Mary Fischer-Nassib, CAP®, co-founder and director of Sow Good Now, given that advisors have not planned on how best to serve these clients. 
"How are we going to be able to serve those women? They're already proven leaders, they've already proven that they want to impact society, they're proven that they have causes that are important to them, and where do we belong? What seat are we taking at the table? How often and who are we bringing in that's needed? I think those are questions we have to start thinking about to serve them better," she said. 
According to the panelists, to connect with their female clients advisors need to engage in meaningful conversations and ask open-ended questions. By understanding their values, interests, and aspirations, advisors can help women align their philanthropic goals with their personal and financial objectives. Providing education and resources early on can also help empower women to become lifelong philanthropists. 
Building a Better Ecosystem
Switching gears to the broader business of philanthropic advising, President Nichols asked the panelists how the philanthropy ecosystem could improve and expand the impact of giving across communities. 
In response, Fischer-Nassib highlighted the importance of improving collaboration and innovation. 
"In the non-profit space, they talk about collaboration and innovation, but the funders don't know what that looks like. And if you've ever tried to get your family to go out to pick a restaurant, it's really hard. So you're asking these nonprofits to work together and keep their mission aligned, and I say, well, you get your family that restaurant first, and then we'll start seeing how we can, as nonprofits, can collaborate," she said. 
Fischer-Nassib added, "The innovative piece is also very important. You need the full team to come together in order to innovate. You need to have the wealth managers, the estate planners, the attorneys, the CPAs, and the philanthropic advisors to start having conversations." 
Peck agreed. "Corporations are part of the ecosystem along with foundations, family foundations, and nonprofits," he said. "And when you think of an ecosystem, it means that everything is positively coexisting and feeding off each other and thriving. And I think that, by bringing these different parts to the table for conversation and understanding what each party's looking for, that's going to be helpful in the grand conversation, and I don't know that we do that as well as we could."
Bringing Diversity into Giving
The panelists moved on to a discussion on how philanthropy can become more diverse and work successfully with the clients of the future. In practice, this means not only recruiting more diverse philanthropic advisors, but also looking at new and emerging causes and expanding the definitions of where to give and how to partner with communities. 
On the topic of America's racial tensions, for example, Peck said, "George Floyd being killed, it sparked an absolute fervor. But the reality is, it just magnified something that's been there for a long, long time. I think there's a reactionary way that people respond to something like that, and people pop up with all the best intentions, and try to create things that can be helpful. But does it last? Is it part of an ecosystem of change?" 
He continued, "I have not seen anything that feels as cohesive as it should be three years later. Now, there are community foundations in my world that were doing good stuff long before George Floyd was killed. And it's a marathon, and not a sprint. There's a lot of cultural work that needs to be done in communities, and we need to be sitting down and having conversations with individuals, not in a reactionary way, but more collaboratively. If we're sensitive to the differences that we have and how positive that can be in our society, we will all be better for that."
A Brighter Way Forward
President Nichols wrapped up the session by asking the panelists about the one thing they would do to improve the philanthropic space if they had a magic wand to make any change they wanted. 
Peck focused on the importance of communication. "I'd wave it to bring people together to have an open discussion, a substantive discussion, leaving time to hear different points of view that lead, slowly but surely, to positive change," he said. 
For Fischer-Nassib, engaging young people was most important. "If you really want to leave a legacy, pour some of what you have to give into these willing and able young people, give them power and a structure around those funds, and let them learn and practice and grow so that 10 years from now, we have risen up and have a good handle on what's needed, as well as teams of people who are set to do really good work."